Occitania – FRJ
EU regions: France > Occitania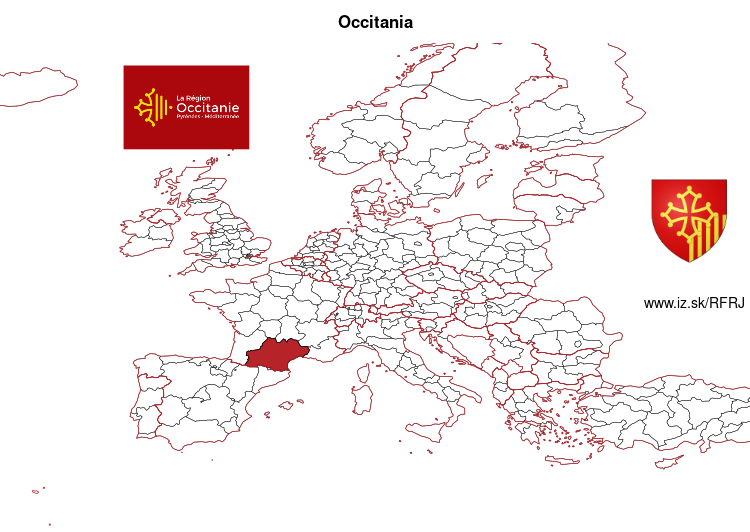 More on wikipedia wikidata Q18678265 on OpenStreetMap Occitania slovensky: FRJ
Subregions: Languedoc-Roussillon, Midi-Pyrénées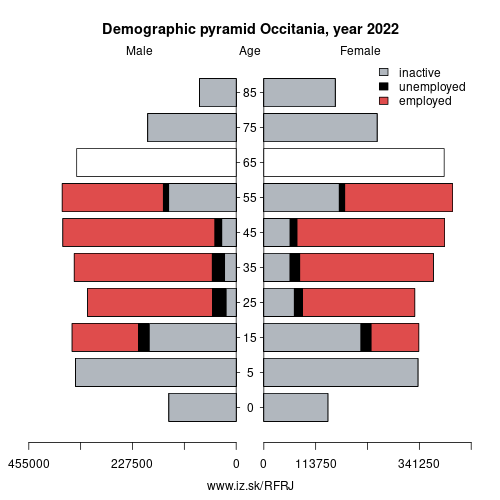 Unemployment
Demographics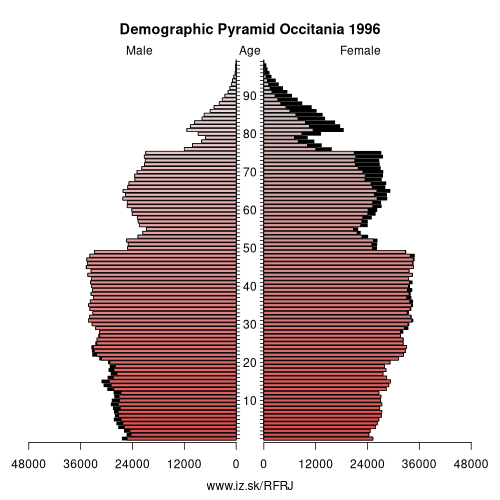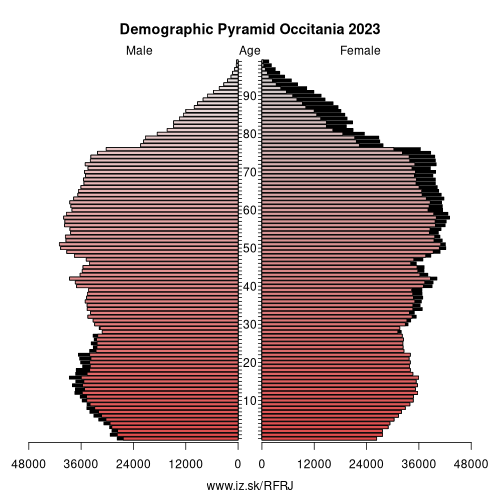 Employment by sectors, Occitania
| NACE r2 | | % | NACE r2 | | % |
| --- | --- | --- | --- | --- | --- |
| A | 80.4 | 3 % | B-E | 243.1 | 10 % |
| F | 172.4 | 7 % | G-I | 559.2 | 22 % |
| J | 97.2 | 4 % | K | 65.5 | 3 % |
| L | 30 | 1 % | M_N | 255.2 | 10 % |
| NRP | 27.4 | 1 % | O-Q | 805.3 | 32 % |
| R-U | 160.9 | 6 % | TOTAL | 2496.5 | 100 % |
Data for the period year 2022. Source of the data is Eurostat, table [lfst_r_lfe2en2].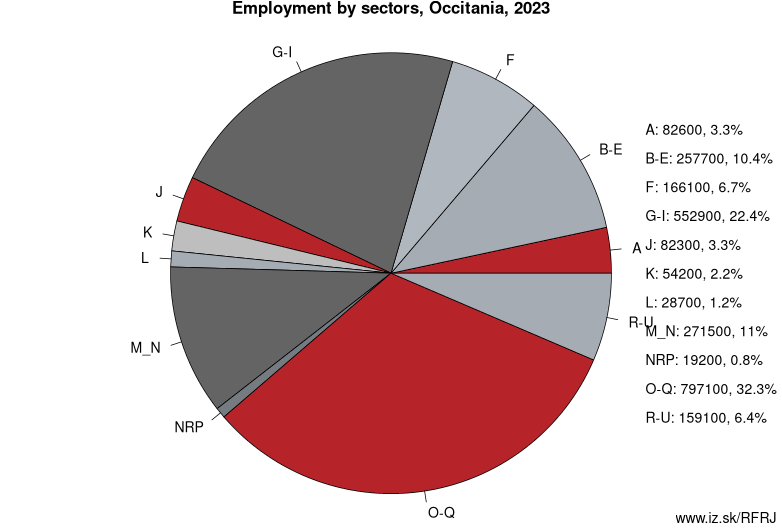 From Wikipedia: Occitanie (French pronunciation: [ɔksitani] (listen); Occitan: Occitània [utsiˈtanjɔ]; Catalan: Occitània [uksiˈtaniə]), Occitany or Occitania () is the southernmost administrative region of metropolitan France excluding Corsica, created on 1 January 2016 from the former regions of Languedoc-Roussillon and Midi-Pyrénées. The Conseil d'État approved Occitanie as the new name of the region on 28 September 2016, coming into effect on 30 September 2016.
The modern administrative region is named after the larger cultural and historical region of Occitania, which corresponds with the southern third of France. The region Occitanie as it is today covers a territory similar to that ruled by the Counts of Toulouse in the 12th and 13th centuries. The banner of arms of the Counts of Toulouse, known colloquially as the Occitan cross, is used by the modern region and is also a popular cultural symbol.
Toponymy
Enacted in 2014, the territorial reform of the French regions had been subject to debate for many years. The reform law used as the new region's provisional name the hyphenated names of its pred­ecessors: Languedoc-Roussillon and Midi-Pyrénées, in alphabetical order. As for most of the merged regions, a permanent name was then proposed by the new regional council to replace that provisional name. On 24 June 2016, the regional council of Languedoc-Roussillon-Midi-Pyrénées adopted the name Occitanie after lengthy public consultation. The provisional name of the region was withdrawn on 30 September 2016, when the new name took effect.
Occitanie, the new name, derives from the historical appellation of the broader region, and refers to the historical use throughout that territory of the Occitan language and its various dialects, which are so named for the word òc, the Occitan word for oui or "yes". The circa 450,000 French Catalans living in the region (or Catalans of the North, as they mostly call themselves) expressed dismay at the regional assembly resolution, regarding the new name as ignoring their presence.
Other: France, Grand Est, Occitania, Normandy, Hauts-de-France, New Aquitaine, Centre-Val de Loire, Pays de la Loire, Auvergne-Rhône-Alpes, Provence-Alpes-Côte d'Azur, Corsica, Bourgogne-Franche-Comté, overseas department and region of France, Brittany, Île-de-France
Neighbours: New Aquitaine, Este, Provence-Alpes-Côte d'Azur, Auvergne-Rhône-Alpes, Noreste
Subregions: Languedoc-Roussillon, Midi-Pyrénées
Suggested citation: Michal Páleník: EU regions - Occitania – FRJ, IZ Bratislava, retrieved from: https://www.iz.sk/​en/projects/eu-regions/FRJ
---
https://www.iz.sk/en/projects/eu-regions/FRJ