Languedoc-Roussillon – FRJ1
EU regions: France > Occitania > Languedoc-Roussillon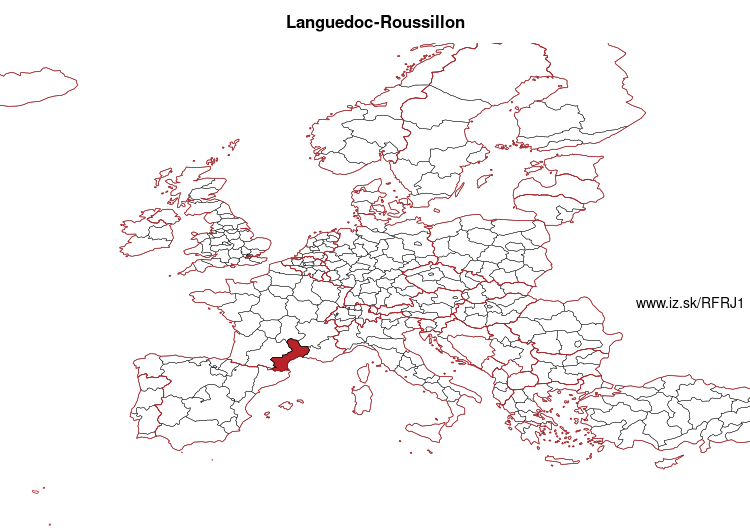 More on wikipedia wikidata Q17005 on OpenStreetMap Languedoc-Roussillon slovensky: FRJ1
Subregions: Aude, Gard, Hérault, Lozère, Pyrénées-Orientales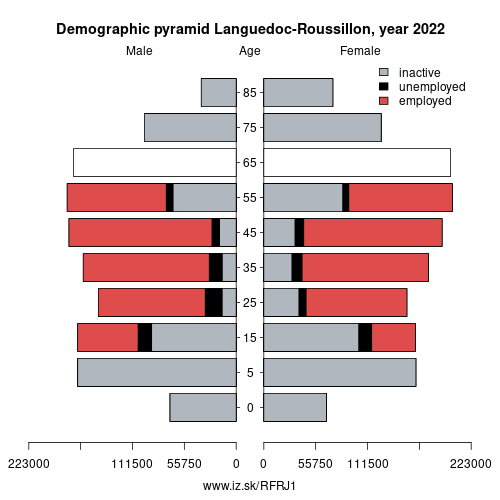 Unemployment
Demographics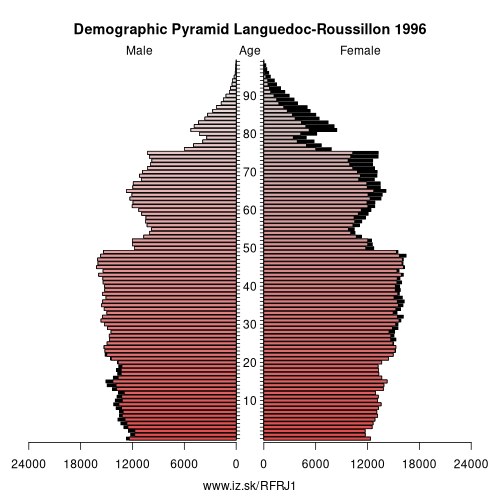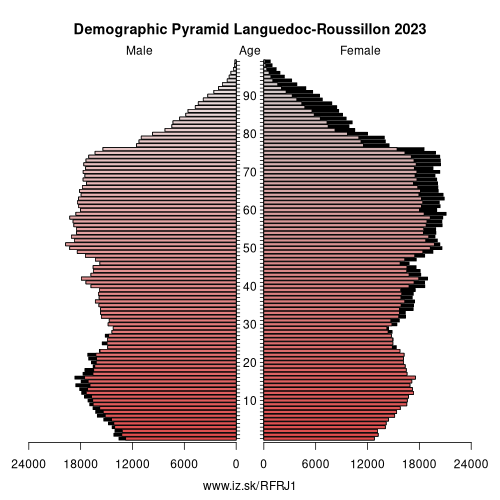 Employment by sectors, Languedoc-Roussillon
| NACE r2 | | % | NACE r2 | | % |
| --- | --- | --- | --- | --- | --- |
| A | 27.5 | 2 % | B-E | 83.8 | 7 % |
| F | 86.6 | 8 % | G-I | 289.6 | 26 % |
| J | 33.5 | 3 % | K | 33.4 | 3 % |
| L | 13.5 | 1 % | M_N | 110.7 | 10 % |
| NRP | 15.9 | 1 % | O-Q | 363.7 | 32 % |
| R-U | 74.7 | 7 % | TOTAL | 1132.9 | 100 % |
Data for the period year 2022. Source of the data is Eurostat, table [lfst_r_lfe2en2].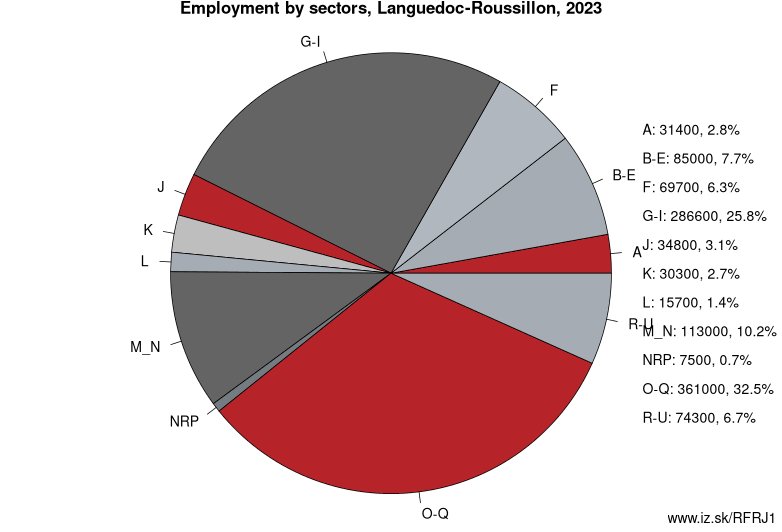 Languedoc-Roussillon
(French: 
[lɑ̃ɡ(ə)dɔk ʁusijɔ̃]
(

listen

)
; Occitan:
Lengadòc-Rosselhon
; Catalan:
Llenguadoc-Rosselló
) is a former administrative region of France. On 1 January 2016, it joined with the region of Midi-Pyrénées to become Occitanie. It comprised five departments, and borders the other French regions of Provence-Alpes-Côte d'Azur, Rhône-Alpes, Auvergne, Midi-Pyrénées on the one side, and Spain, Andorra and the Mediterranean Sea on the other side. It was the southernmost region of mainland France.
Toponymy
The first part of the name of the province of Languedoc-Roussillon comes from the French langue d'oc ("language of oc"). In southern France, the word for yes was the Occitan language word oc. Prior to the 16th century, the central area of France was referred to as Languedoil, there the word for yes was oil in Old French, later becoming oui. These old place names referred to the areas where Occitan and Old French were spoken.
Other: Occitania, Languedoc-Roussillon, Midi-Pyrénées
Neighbours: Auvergne, Provence-Alpes-Côte d'Azur, Rhône-Alpes, Midi-Pyrénées, Catalonia
Subregions: Aude, Gard, Hérault, Lozère, Pyrénées-Orientales
Suggested citation: Michal Páleník: EU regions - Languedoc-Roussillon – FRJ1, IZ Bratislava, retrieved from: https://www.iz.sk/​en/projects/eu-regions/FRJ1
---
https://www.iz.sk/en/projects/eu-regions/FRJ1