Catalonia – ES51
EU regions: Spain > Este > Catalonia
More on wikipedia wikidata Q5705 on OpenStreetMap Catalonia slovensky: ES51
Subregions: Barcelona Province, Province of Girona, Lleida Province, Tarragona Province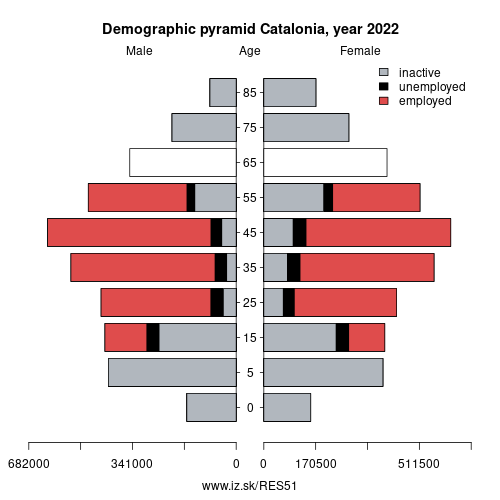 Unemployment
Demographics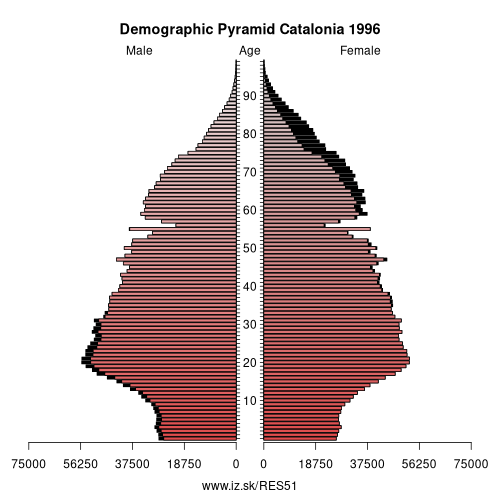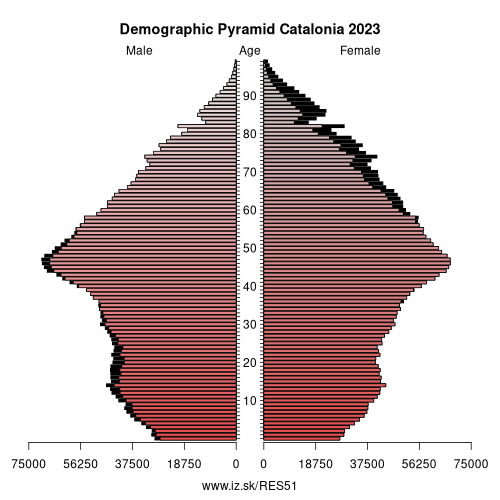 Employment by sectors, Catalonia
NACE r2
%
NACE r2
%
A
53.1
2 %
B-E
604.3
17 %
F
215.7
6 %
G-I
932.3
27 %
J
139
4 %
K
79.2
2 %
L
39.6
1 %
M_N
437.4
12 %
O-Q
767.9
22 %
R-U
245.8
7 %
TOTAL
3514.3
100 %
Data for the period year 2022. Source of the data is Eurostat, table [lfst_r_lfe2en2].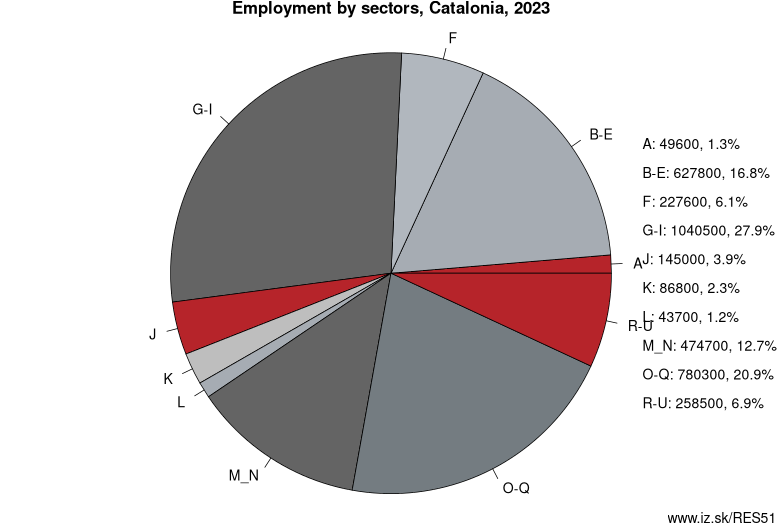 Catalonia
(; Catalan:
Catalunya
[kətəˈluɲə]
; Aranese:
Catalonha
[kataˈluɲɔ]
; Spanish:
Cataluña
[kataˈluɲa]
) is an autonomous community on the northeastern corner of Spain, designated as a
nationality
by its Statute of Autonomy. Catalonia consists of four provinces: Barcelona, Girona, Lleida, and Tarragona. The capital and largest city is Barcelona, the second-most populated municipality in Spain and the core of the sixth most populous urban area in the European Union. It comprises most of the territory of the former Principality of Catalonia (with the remainder Roussillon now part of France's Pyrénées-Orientales, Occitanie). It is bordered by France (Occitanie) and Andorra to the north, the Mediterranean Sea to the east, and the Spanish autonomous communities of Aragon to the west and Valencia to the south. The official languages are Catalan, Spanish, and the Aranese dialect of Occitan.
In the late 8th century, the counties of the March of Gothia and the Hispanic March were established by the Frankish kingdom as feudal vassals across and near the eastern Pyrenees as a defensive barrier against Muslim invasions. The eastern counties of these marches were united under the rule of the Frankish vassal, the count of Barcelona. In the 10th century the County of Barcelona became independent de facto. In 1137, Barcelona and the Kingdom of Aragon were united by marriage under the Crown of Aragon. The de jure end of Frankish rule was ratified by French and Aragonese monarchs in the Treaty of Corbeil in 1258.
Other: Este, Balearic Islands, Valencian Community, Catalonia
Neighbours: Midi-Pyrénées, Languedoc-Roussillon, Valencian Community, Aragon
Subregions: Barcelona Province, Province of Girona, Lleida Province, Tarragona Province
Suggested citation: Michal Páleník: EU regions - Catalonia – ES51, IZ Bratislava, retrieved from: https://www.iz.sk/​en/projects/eu-regions/ES51
---
https://www.iz.sk/en/projects/eu-regions/ES51