Duisburg – DEA12
EU regions: Germany > North Rhine-Westphalia > Düsseldorf Government Region > Duisburg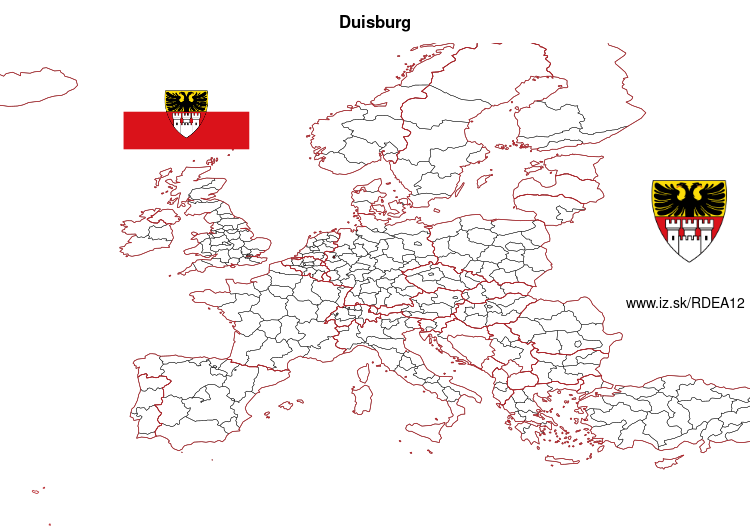 More on wikipedia wikidata Q2100 on OpenStreetMap Duisburg slovensky: DEA12
Demographics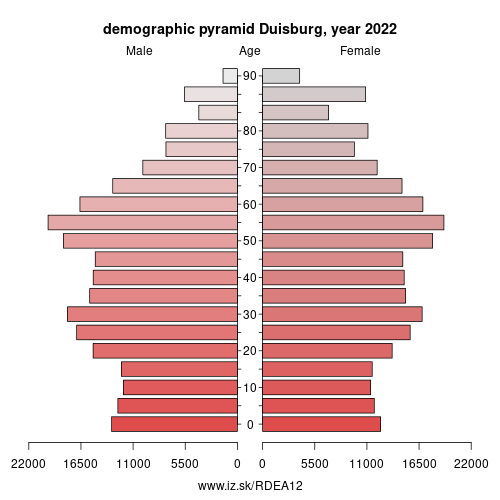 From Wikipedia: Duisburg (, also US: , German: [ˈdyːsbʊʁk] (listen)) is a city in the Ruhr metropolitan area of the northwestern German state North Rhine-Westphalia. Lying on the confluence of the Rhine and the Ruhr rivers, Duisburg is one of the largest cities in Ruhr and 15th largest city in Germany.
In the Middle Ages, it was city-state and a member of the Hanseatic League, and later became a major centre of iron, steel, and chemicals industries. For this reason, it was heavily bombed in World War II. Today it boasts the world's largest inland port, with 21 docks and 40 kilometres of wharf.
Status
Duisburg is a city in Germany's Rhineland, the fifth largest of the nation's most populous federal state of North Rhine-Westphalia. Its 499,845 (2016) inhabitants rank after Cologne, Düsseldorf, Dortmund and Essen,
and make it Germany's 15th largest city. Located at the confluence of the Rhine river and its tributary the Ruhr river, it lies in the west of the Ruhr urban area, Germany's largest, of which it is the third largest city after Dortmund and Essen. The Ruhr itself lies within the larger Rhine-Ruhr Metropolitan Region, one of Europe's largest conurbations. The city lies on both sides of the Rhine, with the city centre and most boroughs on the river's right bank, and is the only city of the Rhine-Ruhr region lying on both the Rhine and Ruhr rivers. Duisburg is one of the largest cities in the Meuse-Rhenish (closely related to Dutch) dialect area and the largest in the South Guelderish area (north of the Uerdingen Isogloss).
Other: Düsseldorf Government Region, Kleve, Mettmann, Viersen, Duisburg, Essen, Krefeld, Mönchengladbach, Remscheid, Solingen, Rhein-Kreis Neuss, Mülheim an der Ruhr, Wesel, Wuppertal, Düsseldorf, Oberhausen
Neighbours: Rhein-Kreis Neuss, Oberhausen, Mülheim an der Ruhr, Düsseldorf, Mettmann, Krefeld, Wesel
Suggested citation: Michal Páleník: EU regions - Duisburg – DEA12, IZ Bratislava, retrieved from: https://www.iz.sk/​en/projects/eu-regions/DEA12
---
https://www.iz.sk/en/projects/eu-regions/DEA12