Krefeld – DEA14
EU regions: Germany > North Rhine-Westphalia > Düsseldorf Government Region > Krefeld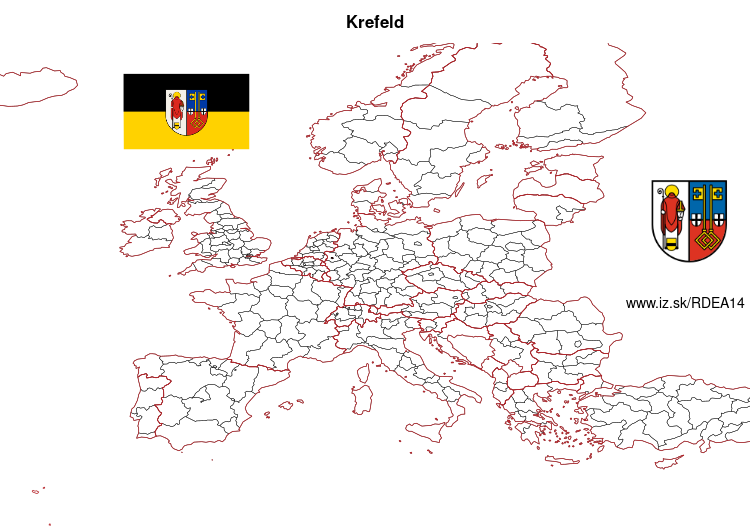 More on wikipedia wikidata Q2805 on OpenStreetMap Krefeld slovensky: DEA14
Demographics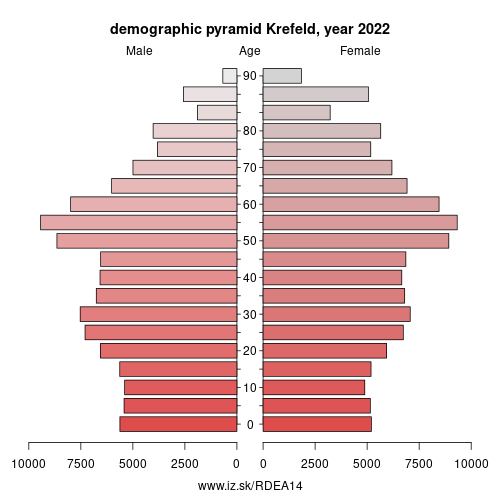 From Wikipedia: Krefeld ( KRAY-feld, -⁠felt, German: [ˈkʁeːfɛlt] (listen)), also spelled Crefeld until 1929, is a city in North Rhine-Westphalia, Germany. It is located northwest of Düsseldorf, its centre lying just a few kilometres to the west of the river Rhine; the borough of Uerdingen is situated directly on the Rhine. Krefeld is accessed by the autobahns A57 (Cologne–Nijmegen) and the A44 (Aachen–Düsseldorf–Dortmund–Kassel).
Krefeld is also called the "Velvet and Silk City".
Krefeld's residents speak Hochdeutsch, or standard German, but the native dialect is a Low German variety, sometimes locally called Krefelder Plattdeutsch, Krieewelsch Platt, Plattdeutsch, or sometimes simply Platt. The Uerdingen line isogloss, separating general dialectical areas in Germany and neighboring Germanic-speaking countries, runs through and is named after Krefeld's Uerdingen district, originally an independent municipality.
History
Records first mention Krefeld in 1105 under the name of Krinvelde. Uerdingen,
In February 1598, Walburga, wife of Adolf van Nieuwenaar, and last Countess of Limburg and Moers, gave the County of Moers, which included Krefeld, to Maurice, Prince of Orange. After her death in 1600, John William of Cleves took possession of these lands, but Maurice successfully defended his heritage in 1601. Krefeld and Moers would remain under the jurisdiction of the House of Orange and the Dutch Republic during the Dutch Golden Age.
Other: Düsseldorf Government Region, Duisburg, Essen, Mettmann, Rhein-Kreis Neuss, Krefeld, Remscheid, Solingen, Viersen, Mönchengladbach, Mülheim an der Ruhr, Wesel, Kleve, Wuppertal, Düsseldorf, Oberhausen
Neighbours: Duisburg, Rhein-Kreis Neuss, Wesel, Viersen
Suggested citation: Michal Páleník: EU regions - Krefeld – DEA14, IZ Bratislava, retrieved from: https://www.iz.sk/​en/projects/eu-regions/DEA14
---
https://www.iz.sk/en/projects/eu-regions/DEA14