Remscheid – DEA18
EU regions: Germany > North Rhine-Westphalia > Düsseldorf Government Region > Remscheid
More on wikipedia wikidata Q3097 on OpenStreetMap Remscheid slovensky: DEA18
Demographics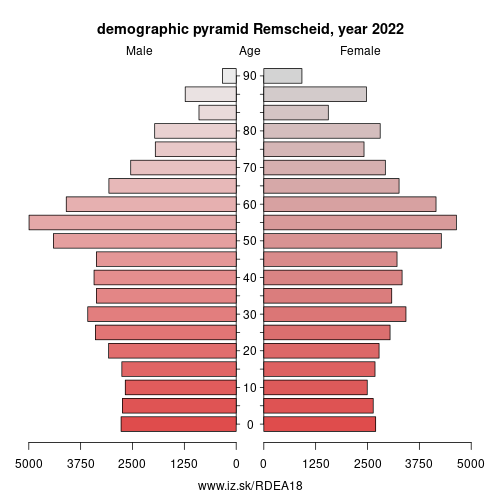 Remscheid
(German pronunciation:
[ˈʁɛmʃaɪt]
(

listen

)
) is a city in North Rhine-Westphalia, Germany. It is, after Wuppertal and Solingen, the third largest municipality in Bergisches Land, being located on the northern edge of the region, on the south side of the Ruhr area.
Remscheid had around 109,000 inhabitants in 2015.
Its highest point is the Brodtberg (378 m).
History
Remscheid was founded in the 12th century, but remained a small village until the 19th century. Early spellings for the city included Remissgeid (1217), Rymscheyd (1351), Reymscheyd (1487) and Rembscheid (1639). The economic growth of the entire Rhine-Ruhr region led to an increase of the population of Remscheid. Mechanical engineering and toolmaking were the main industries practised within the town. This is carried on today with the Hazet tool company which has two factories in Remscheid. Remscheid was part of the Prussian Rhine Province from 1822–1945.
Other: Düsseldorf Government Region, Krefeld, Viersen, Mönchengladbach, Mülheim an der Ruhr, Solingen, Essen, Remscheid, Mettmann, Rhein-Kreis Neuss, Duisburg, Wesel, Kleve, Wuppertal, Düsseldorf, Oberhausen
Neighbours: Oberbergischer Kreis, Wuppertal, Rhein-Berg District, Solingen
Suggested citation: Michal Páleník: EU regions - Remscheid – DEA18, IZ Bratislava, retrieved from: https://www.iz.sk/​en/projects/eu-regions/DEA18
---
https://www.iz.sk/en/projects/eu-regions/DEA18