Mönchengladbach – DEA15
EU regions: Germany > North Rhine-Westphalia > Düsseldorf Government Region > Mönchengladbach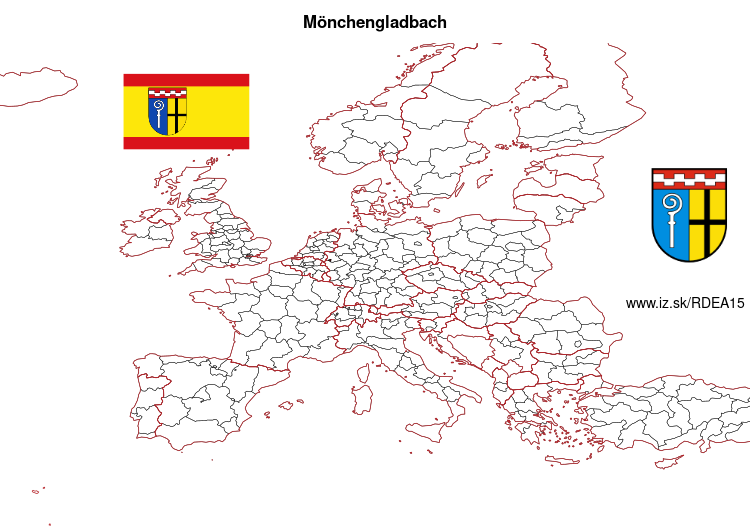 More on wikipedia wikidata Q2758 on OpenStreetMap Mönchengladbach slovensky: DEA15
Demographics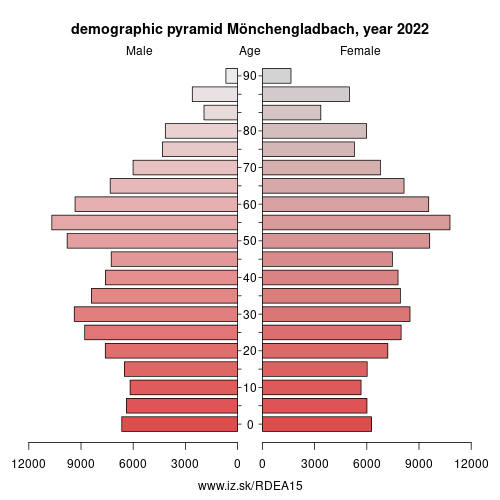 Mönchengladbach
(German pronunciation:
[mœnçn̩ˈɡlatbax]
(

listen

)
) is a city in North Rhine-Westphalia, Germany. It is located west of the Rhine, halfway between Düsseldorf and the Dutch border.
Geography
Municipal subdivisions
Since 2009, the territory of Monchengladbach has comprised four (previously ten) boroughs which are subdivided into 44 districts.
The boroughs and their associated districts
Nord: Am Wasserturm, Dahl, Eicken, Gladbach, Hardt-Mitte, Hardter Wald, Ohler, Venn, Waldhausen, Westend, Windberg
Ost: Bettrath‑Hoven, Bungt, Flughafen, Giesenkirchen‑Mitte, Giesenkirchen‑Nord, Hardterbroich‑Pesch, Lürrip, Neuwerk‑Mitte, Schelsen, Uedding
Süd: Bonnenbroich‑Geneicken, Geistenbeck, Grenzland‑Stadion, Heyden, Hockstein, Mülfort, Odenkirchen‑Mitte, Odenkirchen‑West, Pongs, Rheydt, Sasserath, Schloss Rheydt, Schmölderpark, Schrievers
West: Hauptquartier, Hehn, Holt, Rheindahlen‑Land, Rheindahlen‑Mitte, Wanlo, Wickrath-Mitte, Wickrath‑West, Wickrathberg
History
Name and origins
The original name of the city was Gladbach, which is even today often applied to the town. To distinguish the town from another town of the same name (the present Bergisch Gladbach), it took the name München-Gladbach in 1888. Between 1933 and 1950 it was written München Gladbach (short: M. Gladbach), without hyphen. This spelling could mislead people to think that Gladbach was a borough of Munich (München in German), and consequently the name was changed to Mönchen-Gladbach in 1950 and Mönchengladbach in 1960.
The origin of the town was an abbey founded in 974. It was named after the Gladbach, a narrow brook, that mostly runs underground today. The abbey and adjoining villages became a town in the 14th century. The town of Rheydt is located nearby and is incorporated into Mönchengladbach today.
Other: Düsseldorf Government Region, Essen, Kleve, Mettmann, Rhein-Kreis Neuss, Viersen, Wesel, Mönchengladbach, Krefeld, Oberhausen, Remscheid, Solingen, Mülheim an der Ruhr, Wuppertal, Duisburg, Düsseldorf
Neighbours: Heinsberg, Viersen, Rhein-Kreis Neuss
Suggested citation: Michal Páleník: EU regions - Mönchengladbach – DEA15, IZ Bratislava, retrieved from: https://www.iz.sk/​en/projects/eu-regions/DEA15
---
https://www.iz.sk/en/projects/eu-regions/DEA15