Mülheim an der Ruhr – DEA16
EU regions: Germany > North Rhine-Westphalia > Düsseldorf Government Region > Mülheim an der Ruhr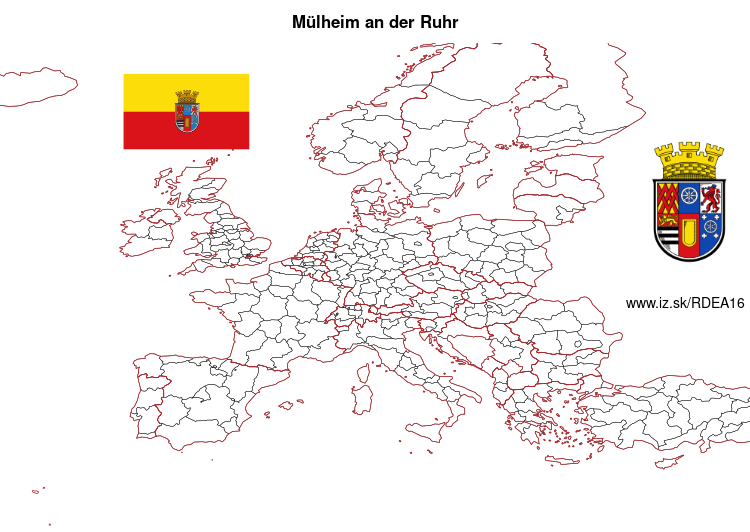 More on wikipedia wikidata Q2899 on OpenStreetMap Mülheim an der Ruhr slovensky: DEA16
Demographics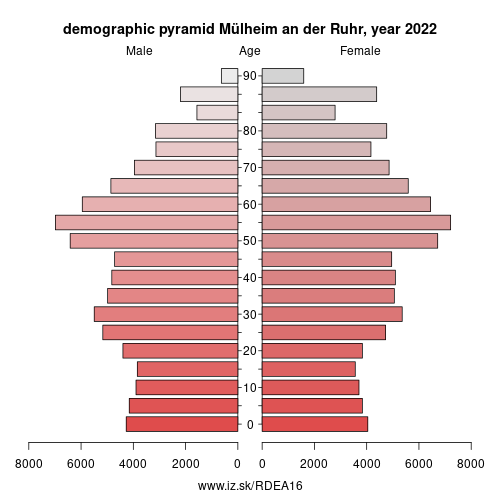 From Wikipedia: Mülheim an der Ruhr (German pronunciation: [ˈmyːlhaɪm ʔan deːɐ̯ ˈʁuːɐ̯] (listen)), also described as "City on the River", is a city in North Rhine-Westphalia in Germany. It is located in the Ruhr Area between Duisburg, Essen, Oberhausen and Ratingen. It is home to many companies, especially in the food industry, such as the Aldi Süd Company, the Harke Group and the Tengelmann Group.
Mülheim received its town charter in 1808, and 100 years later the population exceeded 100,000, making Mülheim officially a city. At the time of the city's 200th anniversary with approximately 170,000 residents, it was counted among the smaller cities of Germany.
In 1966 Mülheim was the first city in the Ruhr Area to become completely free of coal mines, when its last coal mine "Rosenblumendelle" was closed. The former leather and coal city had successfully made a complete transformation to a diversified economic centre. With more than 50 % covered by greenery and forest, the city is regarded as an attractive place to live between Düsseldorf and the rest of the Ruhr. It is the home of two Max Planck Institutes and, since 2009, the technical college Ruhr West. It has a station on the important railway between Dortmund and Duisburg and is served by Rhine-Ruhr S-Bahn lines S1 and S3.
Geography
Geographical location
Mülheim an der Ruhr lies at the junction of the hill country of the Lower Bergisches Land, the western Hellweg and the plane of the middle Lower Rhine region.
Other: Düsseldorf Government Region, Duisburg, Essen, Mönchengladbach, Kleve, Mettmann, Viersen, Krefeld, Remscheid, Solingen, Rhein-Kreis Neuss, Mülheim an der Ruhr, Wesel, Wuppertal, Düsseldorf, Oberhausen
Neighbours: Duisburg, Essen, Oberhausen, Mettmann
Suggested citation: Michal Páleník: EU regions - Mülheim an der Ruhr – DEA16, IZ Bratislava, retrieved from: https://www.iz.sk/​en/projects/eu-regions/DEA16
---
https://www.iz.sk/en/projects/eu-regions/DEA16