Neumünster – DEF04
EU regions: Germany > Schleswig-Holstein > Schleswig-Holstein > Neumünster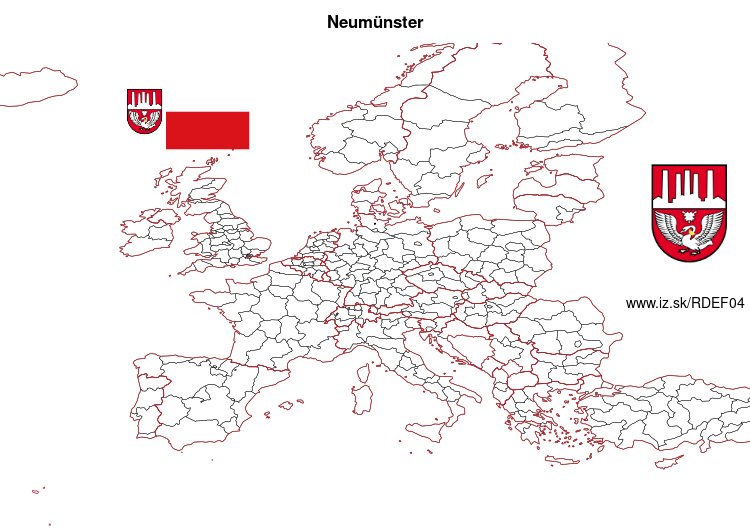 More on wikipedia wikidata Q3879 on OpenStreetMap Neumünster slovensky: DEF04
Demographics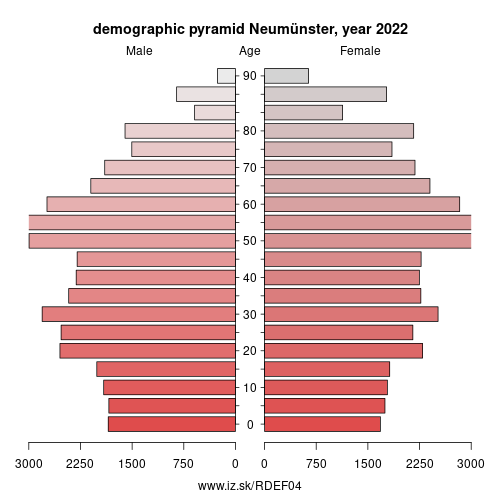 From Wikipedia: Neumünster (German pronunciation: [nɔʏˈmʏnstɐ]) is an urban municipality in the middle of Schleswig-Holstein, Germany. With more than 79,000 registered inhabitants, it is the fourth-largest municipality in Schleswig-Holstein (behind Kiel, Lübeck and Flensburg).
History
The first historic record of the precursor village "Wippendorf" dates from 1127.
Current situation
Neumünster station is a major railway junction with lines running in six (formerly seven) directions, including the important Hamburg-Altona–Kiel and Neumünster–Flensburg lines.
Near Neumünster at Ehndorf, there is a high-power medium wave transmission facility for transmitting the program of Deutschlandfunk, the Ehndorf transmitter, which is often named incorrectly as "Neumünster transmitter".
Geography
Neumünster is located at river Schwale, near the geographical center of Schleswig-Holstein, 35 kilometres (22 mi) south of Kiel, 65 kilometres (40 mi) north of Hamburg and 72 kilometres (45 mi) west of Lübeck. The Aukrug Nature Park is close to the town.
Mayors and Lord mayors
In 1870 Neumünster received the town privileges.
Other: Schleswig-Holstein, Kiel, Dithmarschen, Ostholstein, Pinneberg, Segeberg, Lübeck, Neumünster, Herzogtum Lauenburg, Rendsburg, Mittelangeln, Nordfriesland district, Stormarn, Plön District, Flensburg, Steinburg
Neighbours: Plön District, Segeberg, Rendsburg
Suggested citation: Michal Páleník: EU regions - Neumünster – DEF04, IZ Bratislava, retrieved from: https://www.iz.sk/​en/projects/eu-regions/DEF04
---
https://www.iz.sk/en/projects/eu-regions/DEF04