Dithmarschen – DEF05
EU regions: Germany > Schleswig-Holstein > Schleswig-Holstein > Dithmarschen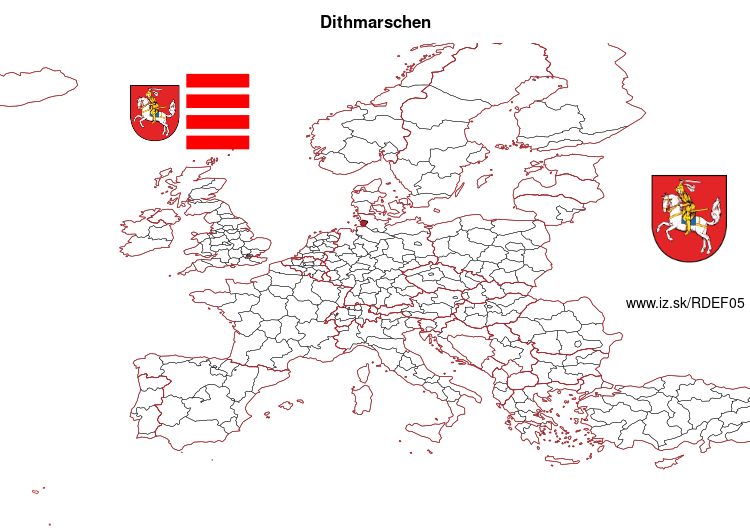 More on wikipedia wikidata Q2947 on OpenStreetMap Dithmarschen slovensky: DEF05
Demographics
Dithmarschen
(German pronunciation:
[ˈdɪtmaʁʃən]
, Low Saxon pronunciation:
[ˈdɪtmaːʃn̩]
, archaic English:
Ditmarsh
, Danish:
Ditmarsken
, Medieval Latin:
Tedmarsgo
) is a district in Schleswig-Holstein, Germany. It is bounded by (from the north and clockwise) the districts of Nordfriesland, Schleswig-Flensburg, Rendsburg-Eckernförde, and Steinburg, by the state of Lower Saxony (district of Stade, from which it is separated by the Elbe river), and by the North Sea. From the 13th century up to 1559 Dithmarschen was an independent peasants' republic within the Holy Roman Empire and a member of the Hanseatic League.
Geography
The district is located on the North Sea. It is embraced by the Elbe estuary to the south and the Eider estuary to the north. Today it forms a kind of artificial island, surrounded by the Eider river in the north and the Kiel Canal in both the east and southeast. It is a rather flat countryside that was once full of fens and swamps.
To the north it borders on Nordfriesland and Schleswig-Flensburg, to the east on Rendsburg-Eckernförde, and in the southeast on Steinburg. Its landward boundaries have remained basically the same since the times of Charlemagne. Land reclamation, however, has almost doubled the size of Dithmarschen as land has been wrested from the sea.
Other: Schleswig-Holstein, Kiel, Neumünster, Herzogtum Lauenburg, Nordfriesland district, Ostholstein, Plön District, Rendsburg, Dithmarschen, Steinburg, Mittelangeln, Pinneberg, Flensburg, Stormarn, Lübeck, Segeberg
Neighbours: Rendsburg, Nordfriesland district, Mittelangeln, Steinburg
Suggested citation: Michal Páleník: EU regions - Dithmarschen – DEF05, IZ Bratislava, retrieved from: https://www.iz.sk/​en/projects/eu-regions/DEF05
---
https://www.iz.sk/en/projects/eu-regions/DEF05