Ostholstein – DEF08
EU regions: Germany > Schleswig-Holstein > Schleswig-Holstein > Ostholstein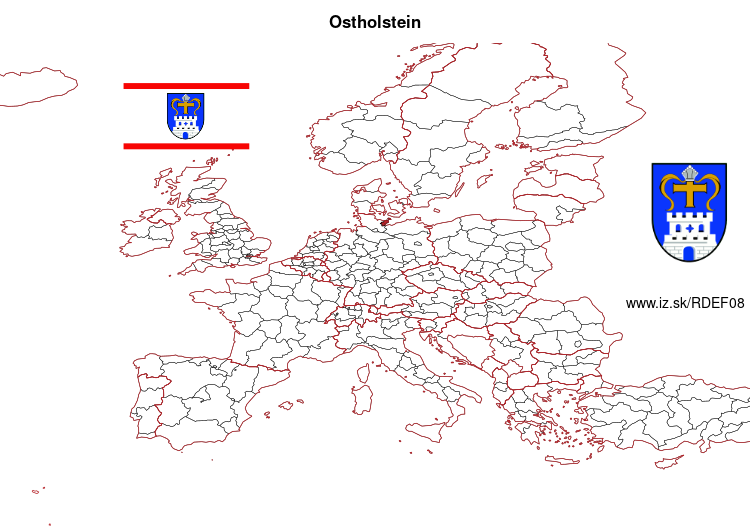 More on wikipedia wikidata Q2975 on OpenStreetMap Ostholstein slovensky: DEF08
Demographics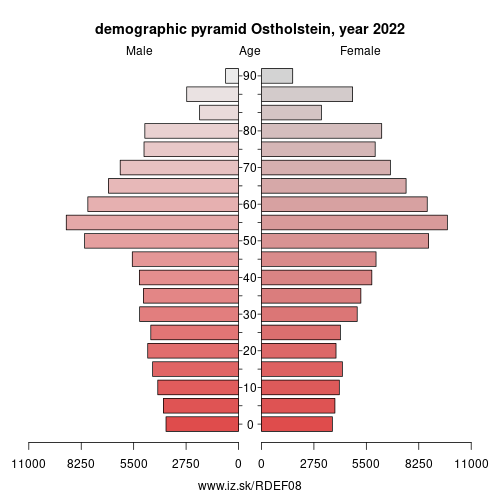 From Wikipedia: Ostholstein (Danish: Østholsten) is a district in Schleswig-Holstein, Germany. It is bounded by (from the southwest and clockwise) the districts of Stormarn, Segeberg and Plön, the Baltic Sea and the city of Lübeck.
History
The district was established in 1970 by merging the former districts of Eutin and Oldenburg in Holstein. These former districts have different histories.
The District of Eutin emerged from the Principality, and later Region of Lübeck, which again emerged from the secularised prince-bishopric of Lübeck. In 1803 it became an exclave of the Duchy of Oldenburg (which confusingly has nothing to do with the Holsteinian city of Oldenburg). In 1937 it was transferred to Prussia as the district of Eutin within the Prussian province of Schleswig-Holstein.
The region of Oldenburg was a part of the Duchy of Holstein. In 1864 Holstein became subordinate to Prussia, which soon afterwards established the district of Oldenburg in Holstein.
Geography
The district consists of the Wagrien peninsula between the Bay of Lübeck and the Bay of Kiel, the island of Fehmarn, the eastern part of the region called "Holsteinische Schweiz" (Holsatian Switzerland) and the northern suburbs of Lübeck.
Other: Schleswig-Holstein, Flensburg, Kiel, Neumünster, Herzogtum Lauenburg, Nordfriesland district, Ostholstein, Pinneberg, Plön District, Steinburg, Rendsburg, Mittelangeln, Dithmarschen, Stormarn, Lübeck, Segeberg
Neighbours: Stormarn, Plön District, Lübeck, Segeberg
Suggested citation: Michal Páleník: EU regions - Ostholstein – DEF08, IZ Bratislava, retrieved from: https://www.iz.sk/​en/projects/eu-regions/DEF08
---
https://www.iz.sk/en/projects/eu-regions/DEF08