Mayotte – FRY5
EU regions: France > overseas department and region of France > Mayotte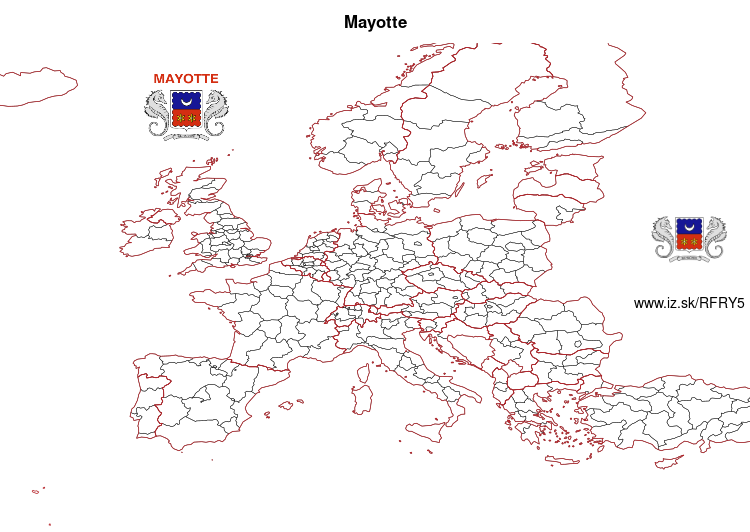 More on wikipedia wikidata Q17063 Mayotte slovensky: FRY5
Subregions: Mayotte
Unemployment
Demographics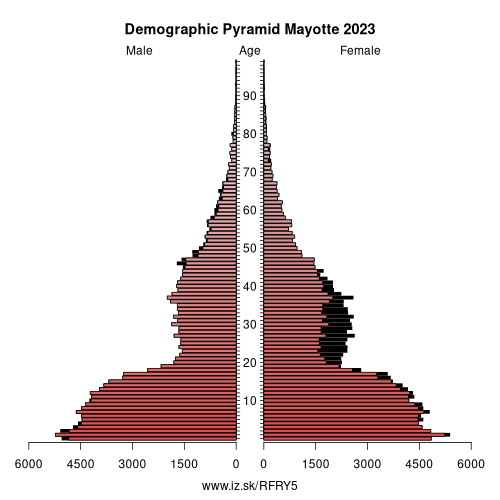 Employment by sectors, Mayotte
NACE r2
%
NACE r2
%
F
4.7
10 %
G-I
8
16 %
NRP
7.4
15 %
O-Q
22.7
46 %
TOTAL
49.4
100 %
Data for the period year 2020. Source of the data is Eurostat, table [lfst_r_lfe2en2].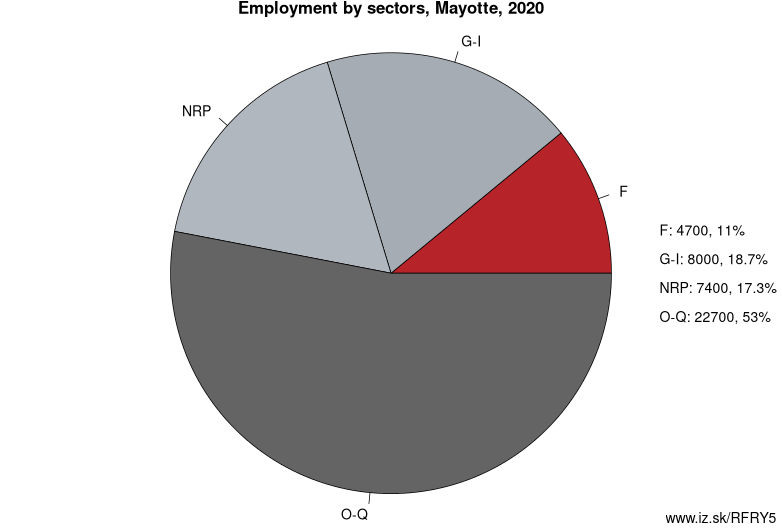 Mayotte
(French:
Mayotte
, pronounced 
[majɔt]
; Shimaore:
Maore
, IPA: 
[maˈore]
; Malagasy:
Maiôty
) is an overseas department and region of France officially named the
Department of Mayotte
(French:
Département de Mayotte
). It consists of a main island, Grande-Terre (or Maore), a smaller island, Petite-Terre (or Pamanzi), and several islets around these two. Mayotte is part of the Comoros archipelago, located in the northern Mozambique Channel in the Indian Ocean off the coast of Southeast Africa, between northwestern Madagascar and northeastern Mozambique. The department status of Mayotte is recent and the region remains, by a significant margin, the poorest in France. Mayotte is nevertheless much more prosperous than the other countries of the Mozambique Channel, making it a major destination for illegal immigration.
Mayotte's land area is 374 square kilometres (144 sq mi) and, with its 279,471 people according to January 2020 official estimates, is very densely populated at 747 inhabitants per km2 (1,935 per sq mi). The biggest city and prefecture is Mamoudzou on Grande-Terre. However, the Dzaoudzi–Pamandzi International Airport is located on the neighbouring island of Petite-Terre. The territory is also known as Maore, the native name of its main island, especially by advocates of its inclusion in the Union of the Comoros.
Administratively, Mayotte is one of the overseas departments of France, and like the other four overseas departments, it is also one of the 18 regions of France, and a fully integrated part of the republic with the same status as Metropolitan France.
Other: overseas department and region of France, Réunion, Mayotte, French Guiana, Martinique, Guadeloupe
Subregions: Mayotte
Suggested citation: Michal Páleník: EU regions - Mayotte – FRY5, IZ Bratislava, retrieved from: https://www.iz.sk/​en/projects/eu-regions/FRY5
---
https://www.iz.sk/en/projects/eu-regions/FRY5