Guadeloupe – FRY1
EU regions: France > overseas department and region of France > Guadeloupe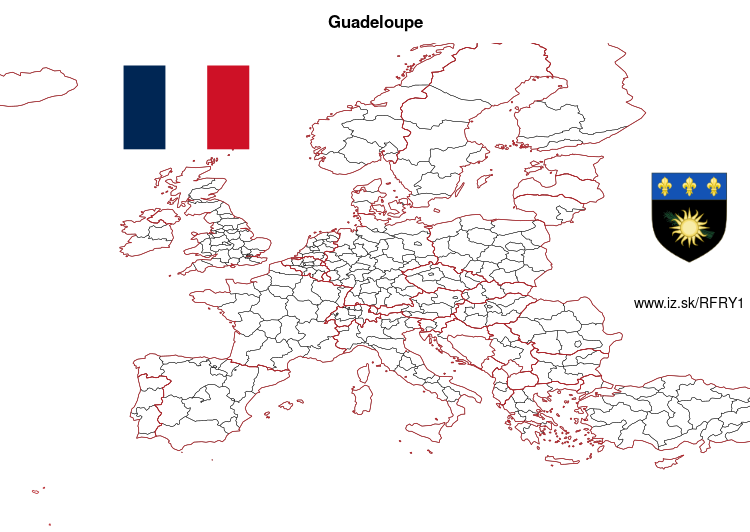 More on wikipedia wikidata Q17012 Guadeloupe slovensky: FRY1
Subregions: Guadeloupe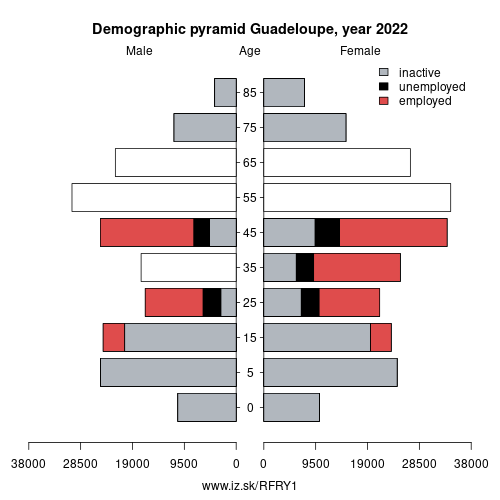 Unemployment
Demographics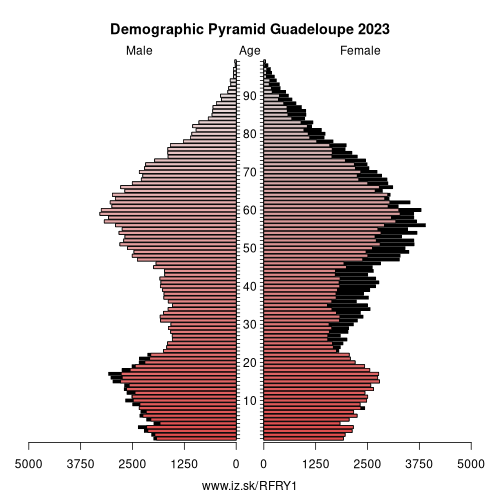 Employment by sectors, Guadeloupe
NACE r2
%
NACE r2
%
A
4.4
4 %
B-E
9.1
8 %
F
9.1
8 %
G-I
25.8
22 %
M_N
9.9
8 %
NRP
2.9
2 %
O-Q
43.9
37 %
R-U
6.6
6 %
TOTAL
117.3
100 %
Data for the period year 2022. Source of the data is Eurostat, table [lfst_r_lfe2en2].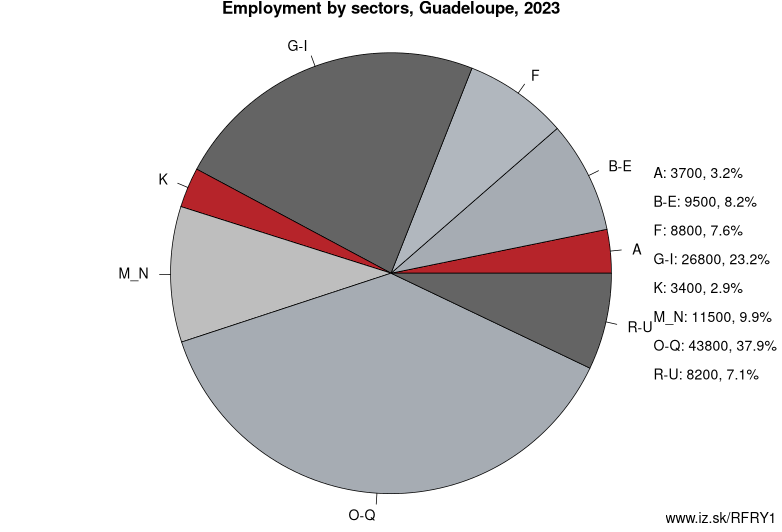 Guadeloupe
(, French: 
[ɡwad(ə)lup]
(

listen

)
; Antillean Creole:
Gwadloup
) is an archipelago and overseas department and region of France in the Caribbean. It consists of six inhabited islands—Basse-Terre, Grande-Terre, Marie-Galante, La Désirade, and the two inhabited Îles des Saintes—as well as many uninhabited islands and outcroppings. It is south of Antigua and Barbuda and Montserrat, and north of Dominica. The region's capital city is Basse-Terre, located on the southern west coast of Basse-Terre Island; however, the most populous city is Les Abymes and the main center of business is neighbouring Pointe-à-Pitre, both located on Grande-Terre Island.
Like the other overseas departments, it is an integral part of France. As a constituent territory of the European Union and the Eurozone, the euro is its official currency and any European Union citizen is free to settle and work there indefinitely. As an overseas department, however, it is not part of the Schengen Area. The region formerly included Saint Barthélemy and Saint Martin, which were detached from Guadeloupe in 2007 following a 2003 referendum. An analogous situation to Guadeloupe's status in the French Republic is the status of Hawaii in the United States.
Navigator Christopher Columbus was the first European to see Guadeloupe, where he landed in 1493, and gave the island its name. The official language is French; Antillean Creole is also spoken.
Etymology
The archipelago was called Karukera (or "The Island of Beautiful Waters") by the native Arawak people.
Christopher Columbus named the island Santa María de Guadalupe in 1493 after the Our Lady of Guadalupe, a shrine to the Virgin Mary venerated in the Spanish town of Guadalupe, Extremadura.
Other: overseas department and region of France, Mayotte, Guadeloupe, Martinique, French Guiana, Réunion
Subregions: Guadeloupe
Suggested citation: Michal Páleník: EU regions - Guadeloupe – FRY1, IZ Bratislava, retrieved from: https://www.iz.sk/​en/projects/eu-regions/FRY1
---
https://www.iz.sk/en/projects/eu-regions/FRY1