Martinique – FRY2
EU regions: France > overseas department and region of France > Martinique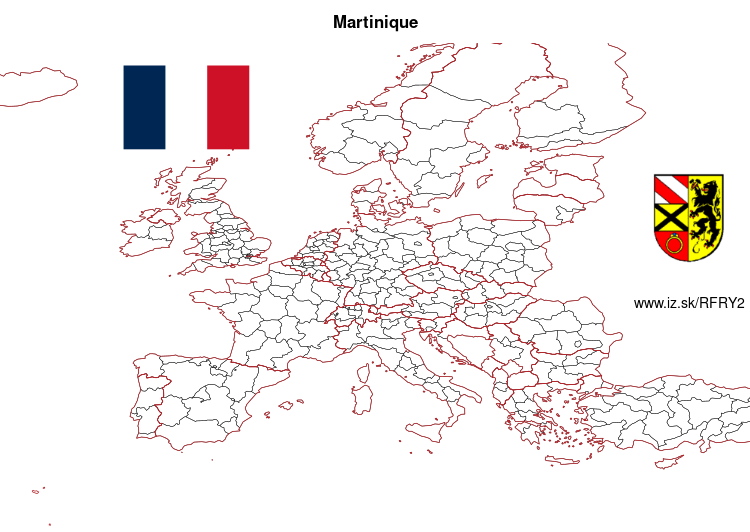 More on wikipedia wikidata Q17054 Martinique slovensky: FRY2
Subregions: Martinique
Unemployment
Demographics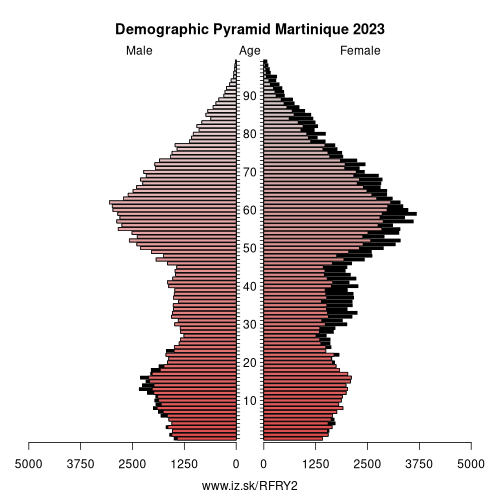 Employment by sectors, Martinique
NACE r2
%
NACE r2
%
A
4.7
4 %
B-E
8.6
7 %
F
6.5
5 %
G-I
24.4
20 %
M_N
12.1
10 %
NRP
2.6
2 %
O-Q
51.6
42 %
R-U
8.1
7 %
TOTAL
123.3
100 %
Data for the period year 2022. Source of the data is Eurostat, table [lfst_r_lfe2en2].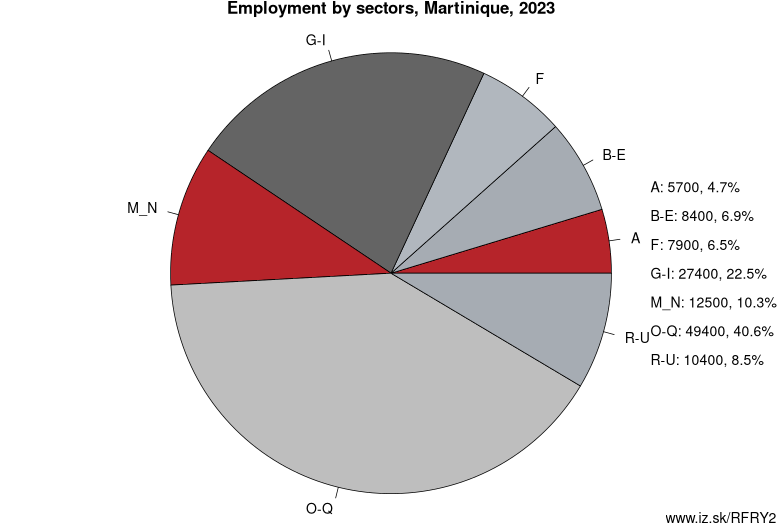 Martinique

(

MAR

-tin-

EEK

, French: 

[maʁtinik]

(

listen

)

; Martinican Creole:

Matinik

or

Matnik

; Kalinago:

Madinina

or

Madiana

) is an island and an Overseas department/region and single territorial collectivity of France, and therefore an integral part of the French Republic, located in the Lesser Antilles of the West Indies in the eastern Caribbean Sea, with a land area of 1,128 square kilometres (436 sq mi) and a population of 376,480 inhabitants as of January 2016. One of the Windward Islands, it is directly north of Saint Lucia, northwest of Barbados and south of Dominica. Martinique is also an Outermost Region (OMR) of European Union as a special territory of the European Union and the currency in use is the euro. An analogous situation to Martinique's status in the French Republic is the status of Hawaii in the United States. Virtually the entire population speaks both French (the sole official language) and Martinican Creole.
Etymology
It is thought that Martinique is a corruption of the Taïno name for the island (Madiana/Madinina, meaning 'island of flowers', or Matinino, "island of women"), as relayed to Christopher Columbus when he visited the island in 1502. According to historian Sydney Daney, the island was called "Jouanacaëra" or "Wanakaera" by the Caribs, which means "the island of iguanas".
History
Pre-European contact
The island was occupied first by Arawaks, then by Caribs. The Arawaks were described as gentle timorous Indians and the Caribs as ferocious cannibal warriors. The Arawaks came from Central America in the 1st century AD and the Caribs came from the Venezuela coast around the 11th century. When Columbus arrived, the Caribs had massacred many of their adversaries, sparing the women, whom they kept for their personal or domestic use.
European arrival and early colonial period
Martinique was charted by Columbus in 1493, but Spain had little interest in the territory. Christopher Columbus landed on 15 June 1502, after a 21-day trade wind passage, his fastest ocean voyage.
Other: overseas department and region of France, Réunion, Mayotte, Martinique, French Guiana, Guadeloupe
Subregions: Martinique
Suggested citation: Michal Páleník: EU regions - Martinique – FRY2, IZ Bratislava, retrieved from: https://www.iz.sk/​en/projects/eu-regions/FRY2
---
https://www.iz.sk/en/projects/eu-regions/FRY2