Corsica – FRM0
EU regions: France > Corsica > Corsica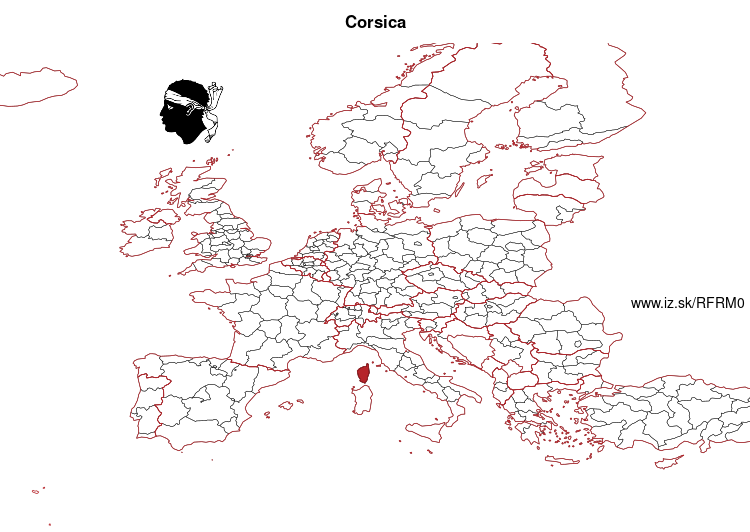 More on wikipedia wikidata Q14112 on OpenStreetMap Corsica slovensky: FRM0
Subregions: Corse-du-Sud, Haute-Corse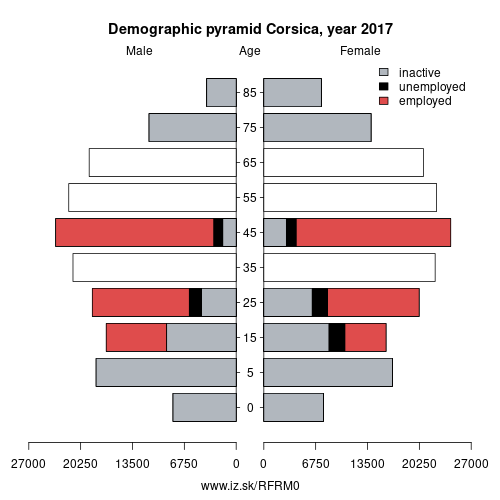 Unemployment
Demographics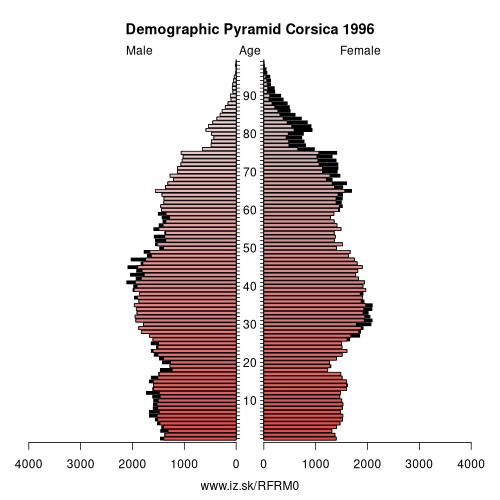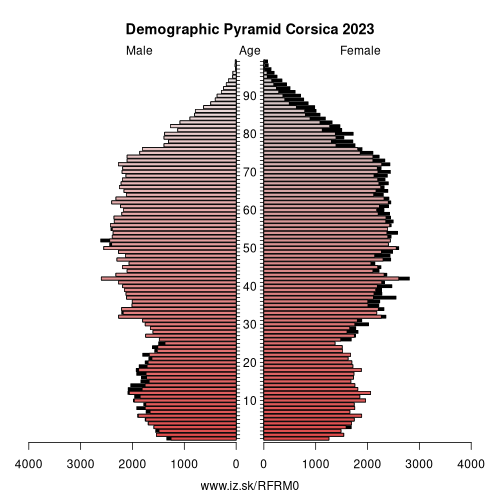 Employment by sectors, Corsica
| NACE r2 | | % | NACE r2 | | % |
| --- | --- | --- | --- | --- | --- |
| F | 16.1 | 12 % | G-I | 40.4 | 31 % |
| M_N | 8.7 | 7 % | O-Q | 41.7 | 32 % |
| R-U | 7.5 | 6 % | TOTAL | 130.1 | 100 % |
Data for the period year 2022. Source of the data is Eurostat, table [lfst_r_lfe2en2].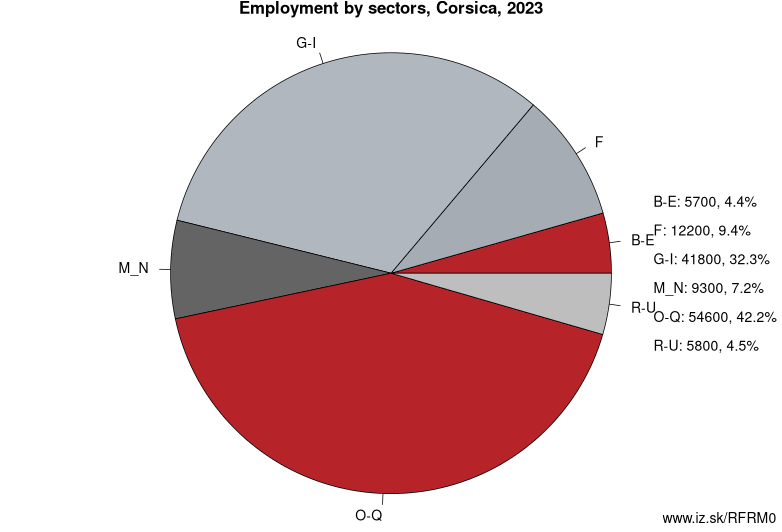 Corsica
(; Upper Corsican:
[ˈkorsiɡa]
, Southern Corsican:
[ˈkɔrsika]
; Italian: 
[ˈkorsika]
; French:
Corse
,
[kɔʁs]
(

listen

)
; Ligurian:
Còrsega
) is an island in the Mediterranean Sea and politically one of the eighteen regions of France. It is the fourth-largest island in the Mediterranean and lies southeast of the French mainland, west of the Italian Peninsula and immediately north of the Italian island of Sardinia, the land mass nearest to it. A single chain of mountains makes up two-thirds of the island. In 2016, it had a population of 330,455.
The island is a territorial collectivity of France. The regional capital is Ajaccio. Although the region is divided into two administrative departments, Haute-Corse and Corse-du-Sud, their respective regional and departmental territorial collectivities were merged on 1 January 2018 to form the single territorial collectivity of Corsica. As such, Corsica enjoys a greater degree of autonomy than other French regional collectivities; for example, the Corsican Assembly is permitted to exercise limited executive powers. Corsica's second-largest town is Bastia, the prefecture of Haute-Corse.
Corsica was ruled by the Republic of Genoa from 1284 to 1755, when it became a self-proclaimed, Italian-speaking Republic.
Subregions: Corse-du-Sud, Haute-Corse
Suggested citation: Michal Páleník: EU regions - Corsica – FRM0, IZ Bratislava, retrieved from: https://www.iz.sk/​en/projects/eu-regions/FRM0
---
https://www.iz.sk/en/projects/eu-regions/FRM0