Thessaly Region – EL61
EU regions: Greece > Kentriki Ellada > Thessaly Region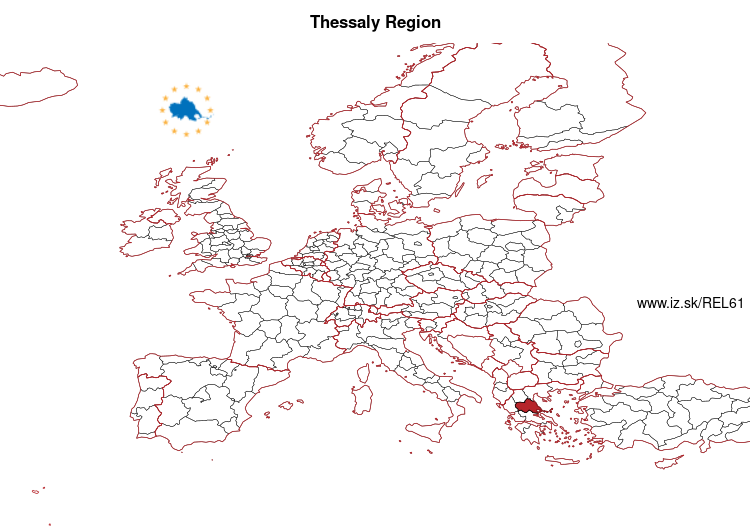 More on wikipedia wikidata Q22807284 on OpenStreetMap Thessaly Region slovensky: EL61
Subregions: Καρδίτσα, Τρίκαλα, Λάρισα, Μαγνησία, Σποράδες
Unemployment
Demographics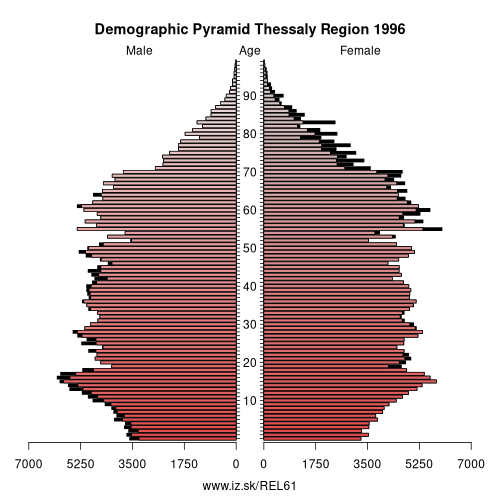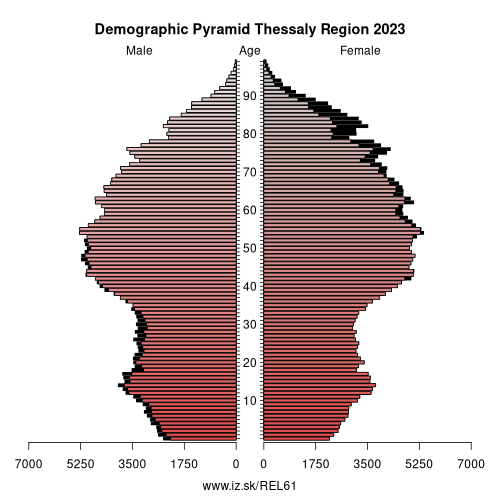 Employment by sectors, Thessaly Region
| NACE r2 | | % | NACE r2 | | % |
| --- | --- | --- | --- | --- | --- |
| A | 45.2 | 17 % | B-E | 39.4 | 15 % |
| F | 8.6 | 3 % | G-I | 74.6 | 28 % |
| J | 2.4 | 1 % | K | 1.7 | 1 % |
| M_N | 15.6 | 6 % | O-Q | 70.3 | 26 % |
| R-U | 10 | 4 % | TOTAL | 269.6 | 100 % |
Data for the period year 2022. Source of the data is Eurostat, table [lfst_r_lfe2en2].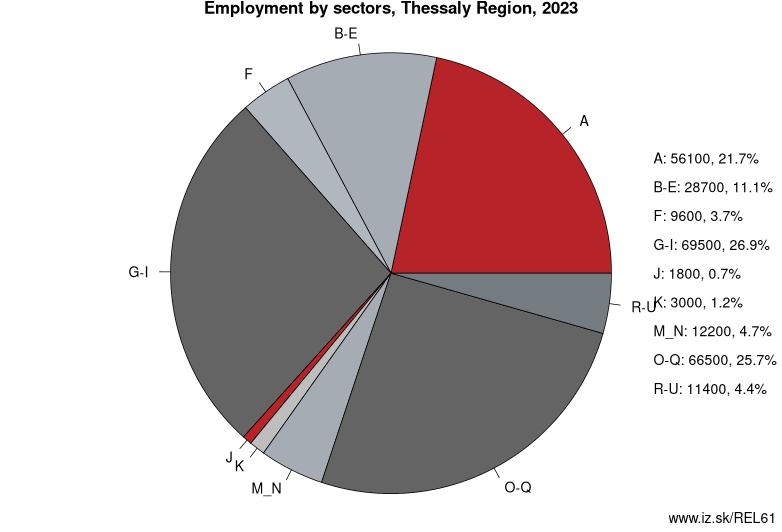 From Wikipedia: Thessaly (Greek: Θεσσαλία, romanized: Thessalía, [θesaˈli.a]; ancient Thessalian: Πετθαλία, Petthalía) is a traditional geographic and modern administrative region of Greece, comprising most of the ancient region of the same name. Before the Greek Dark Ages, Thessaly was known as Aeolia (Ancient Greek: Αἰολία, Aiolía), and appears thus in Homer's Odyssey.
Thessaly became part of the modern Greek state in 1881, after four and a half centuries of Ottoman rule. Since 1987 it has formed one of the country's 13 regions and is further (since the Kallikratis reform of 2011) sub-divided into five regional units and 25 municipalities. The capital of the region is Larissa. Thessaly lies in northern Greece and borders the regions of Macedonia on the north, Epirus on the west, Central Greece on the south, and the Aegean Sea on the east. The Thessaly region also includes the Sporades islands.
Mythology
In Homer's epic, the Odyssey, the hero Odysseus visited the kingdom of Aeolus, which was the old name for Thessaly.
The Plain of Thessaly, which lies between Mount Oeta/Othrys and Mount Olympus, was the site of the battle between the Titans and the Olympians.
According to legend, Jason and the Argonauts launched their search for the Golden Fleece from the Magnesia Peninsula.
Other: Kentriki Ellada, Thessaly Region, Central Greece Region, Ionian Islands Region, West Greece Region, Peloponnese Region
Neighbours: Central Greece Region, Epirus Region, West Greece Region, Central Macedonia, Western Macedonia
Subregions: Καρδίτσα, Τρίκαλα, Λάρισα, Μαγνησία, Σποράδες
Suggested citation: Michal Páleník: EU regions - Thessaly Region – EL61, IZ Bratislava, retrieved from: https://www.iz.sk/​en/projects/eu-regions/EL61
---
https://www.iz.sk/en/projects/eu-regions/EL61