Cornwall – UKK3
EU regions: United Kingdom > South West England > Cornwall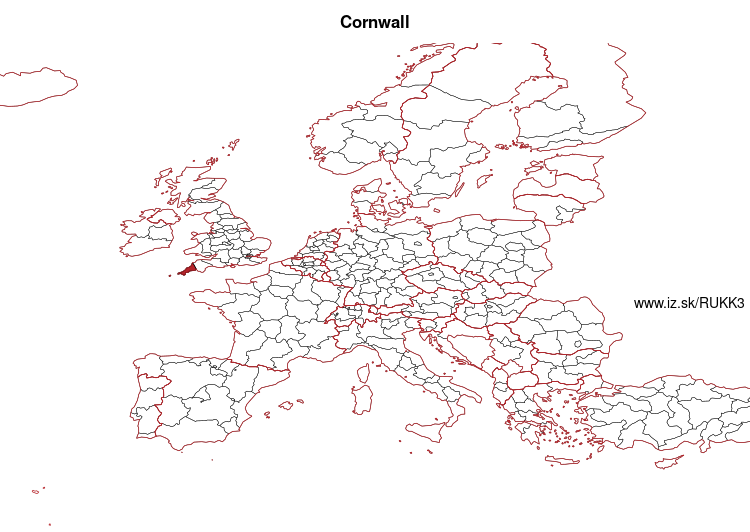 More on wikipedia wikidata Q23148 on OpenStreetMap Cornwall slovensky: UKK3
Subregions: Cornwall and Isles of Scilly
Unemployment
Demographics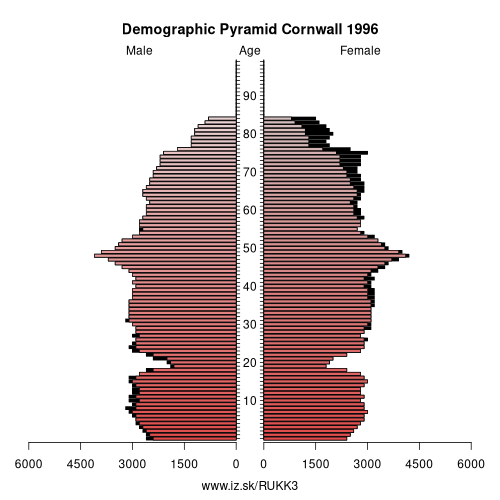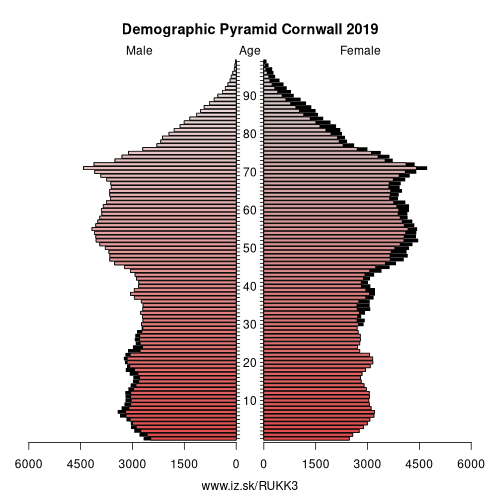 Employment by sectors, Cornwall
| NACE r2 | | % | NACE r2 | | % |
| --- | --- | --- | --- | --- | --- |
| A | 5.7 | 2 % | B-E | 26.5 | 10 % |
| F | 21 | 8 % | G-I | 82.6 | 31 % |
| J | 5.3 | 2 % | K | 5.8 | 2 % |
| M_N | 21.3 | 8 % | O-Q | 82.5 | 31 % |
| R-U | 17.5 | 7 % | TOTAL | 269.2 | 100 % |
Data for the period year 2019. Source of the data is Eurostat, table [lfst_r_lfe2en2].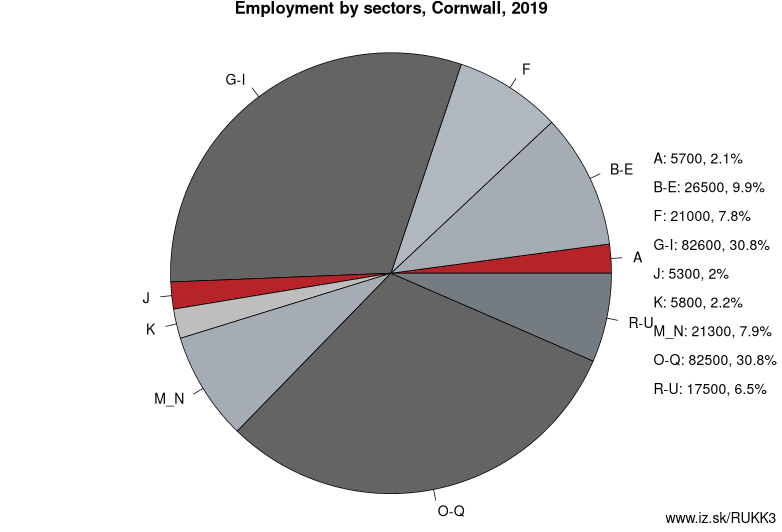 Cornwall
(; Cornish:
Kernow
[ˈkɛrnɔʊ]
) is a ceremonial county in South West England, bordered to the north and west by the Celtic Sea, to the south by the English Channel, and to the east by Devon, the River Tamar forming the border between them. Cornwall is the westernmost part of the South West Peninsula of the island of Great Britain. The southwesternmost point is Land's End and the southernmost Lizard Point. Cornwall has a population of 563,600 and an area of 3,563 km
2
(1,376 sq mi). The county has been administered since 2009 by the unitary authority, Cornwall Council. The ceremonial county of Cornwall also includes the Isles of Scilly, which are administered separately. The administrative centre of Cornwall is Truro, its only city.
Cornwall is the homeland of the Cornish people and the cultural and ethnic origin of the Cornish diaspora. It retains a distinct cultural identity that reflects its history, and is recognised as one of the Celtic nations. It was formerly a Brythonic kingdom and subsequently a royal duchy.
Other: South West England, Cornwall, Devon, Gloucestershire, Wiltshire and Bristol/Bath area, Dorset and Somerset
Neighbours: Devon
Subregions: Cornwall and Isles of Scilly
Suggested citation: Michal Páleník: EU regions - Cornwall – UKK3, IZ Bratislava, retrieved from: https://www.iz.sk/​en/projects/eu-regions/UKK3
---
https://www.iz.sk/en/projects/eu-regions/UKK3