Lorraine – FRF3
EU regions: France > Grand Est > Lorraine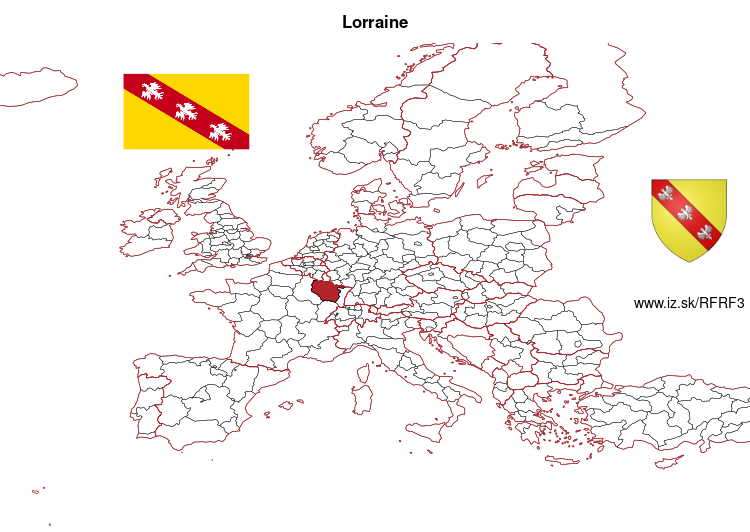 More on wikipedia wikidata Q1137 on OpenStreetMap Lorraine slovensky: FRF3
Subregions: Meurthe-et-Moselle, Meuse, Moselle, Vosges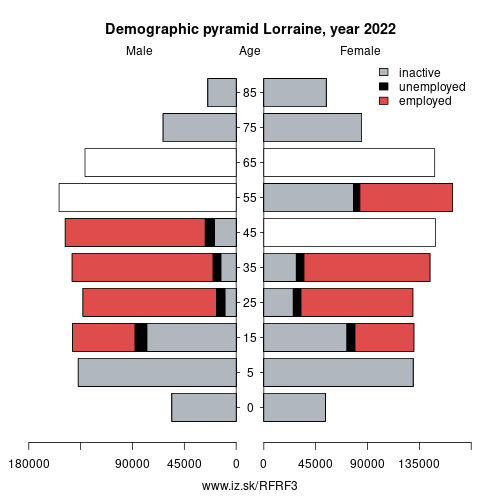 Unemployment
Demographics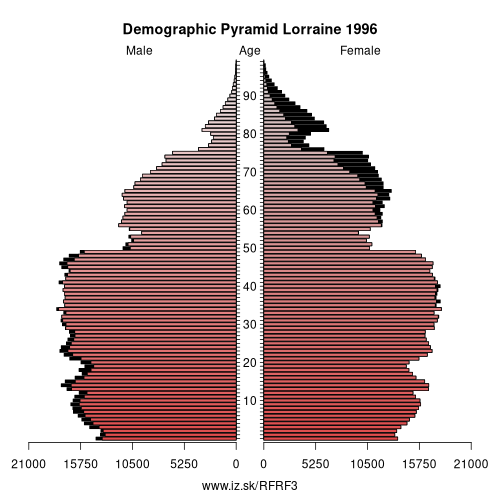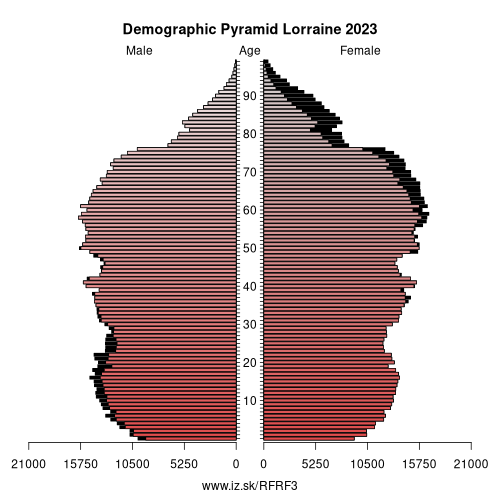 Employment by sectors, Lorraine
| NACE r2 | | % | NACE r2 | | % |
| --- | --- | --- | --- | --- | --- |
| A | 16.7 | 2 % | B-E | 159.7 | 17 % |
| F | 67.7 | 7 % | G-I | 222.5 | 24 % |
| J | 10.5 | 1 % | K | 26.8 | 3 % |
| L | 9.6 | 1 % | M_N | 84.8 | 9 % |
| NRP | 7 | 1 % | O-Q | 290.8 | 31 % |
| R-U | 43.5 | 5 % | TOTAL | 939.5 | 100 % |
Data for the period year 2022. Source of the data is Eurostat, table [lfst_r_lfe2en2].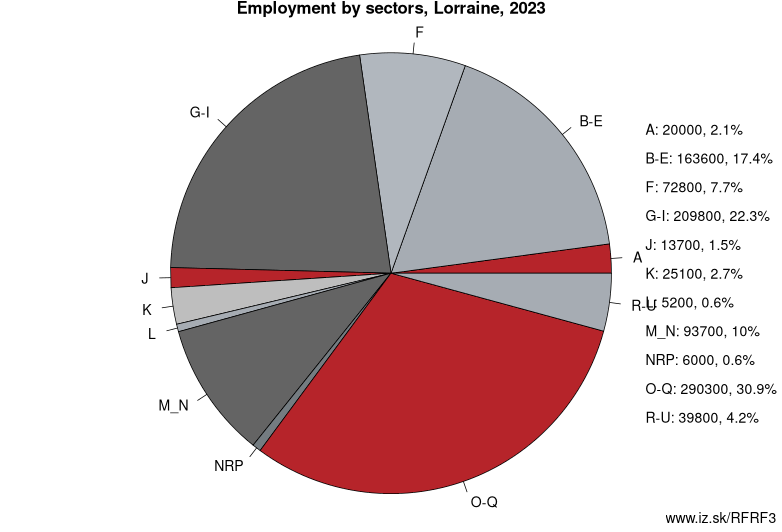 From Wikipedia: Lorraine is a cultural and historical region in north-eastern France, now located in the administrative region of Grand Est. Lorraine's name stems from the medieval kingdom of Lotharingia, which in turn was named for either Emperor Lothair I or King Lothair II. It later was ruled as the Duchy of Lorraine before the Kingdom of France annexed it in 1766.
From 1982 until January 2016, Lorraine was an administrative region of France. In 2016, under a reorganization, it became part of the new region Grand Est. As a region in modern France, Lorraine consisted of the four departments Meurthe-et-Moselle, Meuse, Moselle and Vosges (of an historical point of view the Haute-Marne department is located in the region), containing 2,337 communes. Metz is the regional prefecture. The largest metropolitan area of Lorraine is Nancy, which had developed for centuries as the seat of the duchy.
Lorraine borders Germany, Belgium, and Luxembourg. Its inhabitants are called "Lorrains" in French and number about 2,356,000.
History
Lorraine's borders have changed often in its long history.
Other: Grand Est, Champagne-Ardenne, Lorraine, Alsace
Neighbours: Franche-Comté, Luxembourg, Champagne-Ardenne, Alsace, Rheinhessen-Pfalz, Luxembourg, Saarland
Subregions: Meurthe-et-Moselle, Meuse, Moselle, Vosges
Suggested citation: Michal Páleník: EU regions - Lorraine – FRF3, IZ Bratislava, retrieved from: https://www.iz.sk/​en/projects/eu-regions/FRF3
---
https://www.iz.sk/en/projects/eu-regions/FRF3