Champagne-Ardenne – FRF2
EU regions: France > Grand Est > Champagne-Ardenne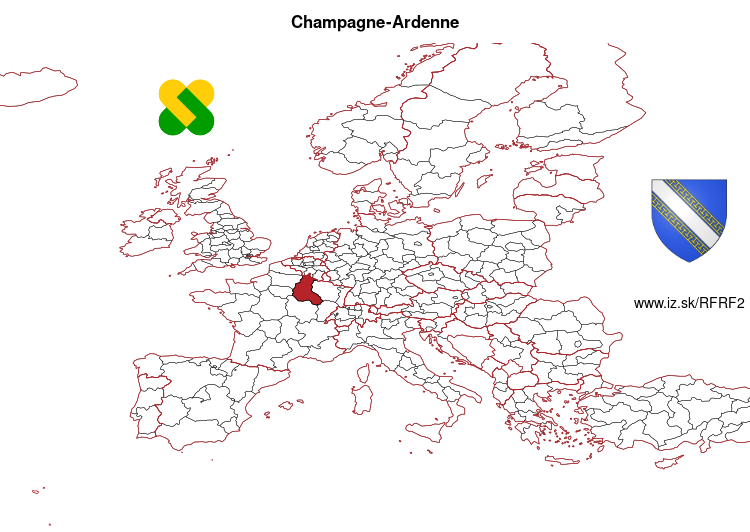 More on wikipedia wikidata Q14103 on OpenStreetMap Champagne-Ardenne slovensky: FRF2
Subregions: Ardennes, Aube, Marne, Haute-Marne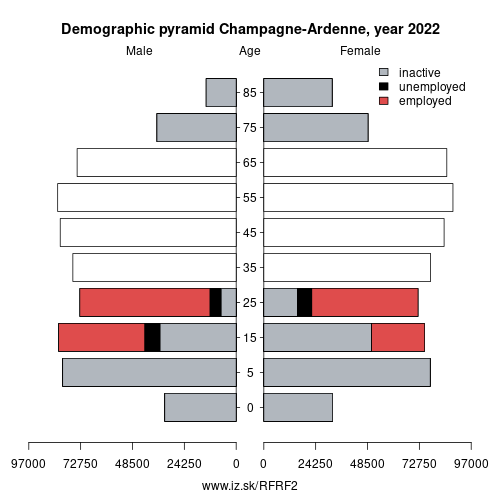 Unemployment
Demographics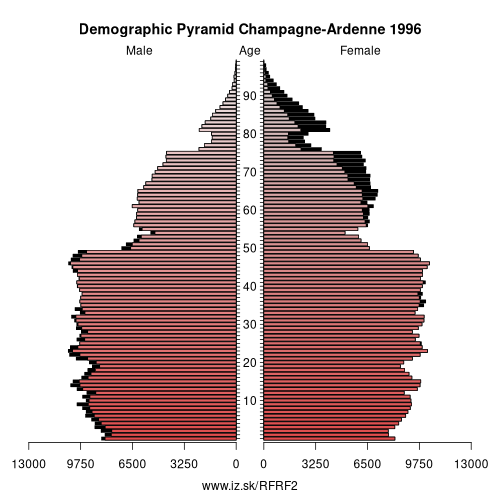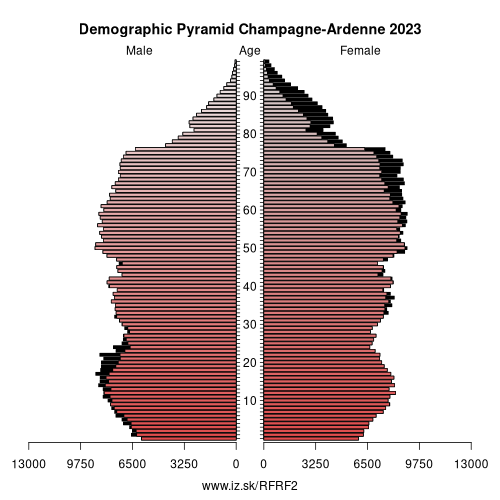 Employment by sectors, Champagne-Ardenne
NACE r2
%
NACE r2
%
A
34
7 %
B-E
97
19 %
F
38.1
7 %
G-I
107.5
21 %
K
19.1
4 %
M_N
31.6
6 %
O-Q
158.7
30 %
R-U
26.4
5 %
TOTAL
522.3
100 %
Data for the period year 2022. Source of the data is Eurostat, table [lfst_r_lfe2en2].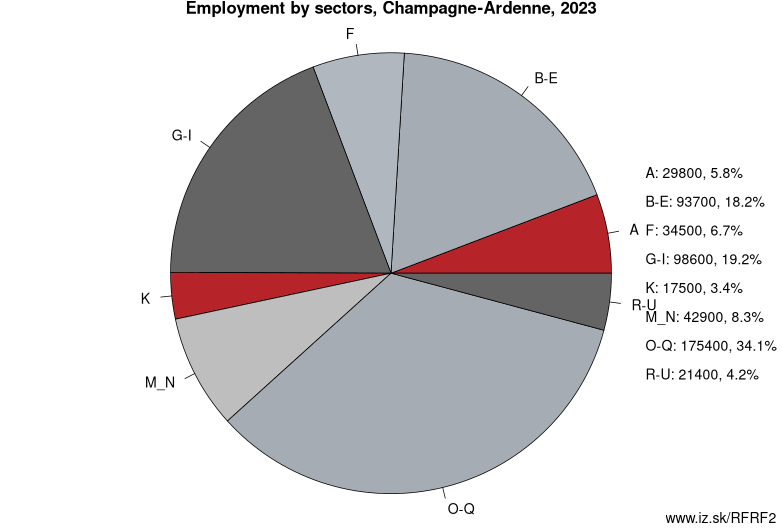 Champagne-Ardenne
(French pronunciation: ​
[ʃɑ̃paɲaʁdɛn]
) is a former administrative region of France, located in the northeast of the country, bordering Belgium. Mostly corresponding to the historic province of Champagne, the region is known for its sparkling white wine of the same name.
The administrative region was formed in 1956, consisting of the four departments Aube, Ardennes, Haute-Marne, and Marne. On 1 January 2016, it merged with the neighboring regions of Alsace and Lorraine to form the new region Grand Est, thereby ceasing to exist as an independent entity.
Its rivers, most of which flow west, include the Seine, the Marne, and the Aisne. The Meuse flows north.
Transportation
Highways
A4 connecting Paris and Strasbourg and serving the Reims metropolitan area
A5 connecting Paris and Dijon and serving Troyes and Chaumont
A26 connecting Calais and Troyes and serving Reims and Châlons-en-Champagne
A34 connecting Reims and the Belgian border and serving Charleville-Mézières
Rail
The rail network includes the Paris–Strasbourg line, which follows the Marne Valley and serves Épernay, Châlons-en-Champagne, and Vitry-le-François. The LGV Est TGV line also connecting Paris and Strasbourg opened in 2007 and serves Reims with a train station in the commune of Bezannes.
Water
The region's canals include the Canal latéral à la Marne and Marne-Rhine Canal, the latter connecting to the Marne at Vitry-le-François. These are petit gabarit canals.
Air
The Vatry International Airport, primarily dedicated to air freight, has a runway 3,650 m (11,980 ft) long.
Other: Grand Est, Champagne-Ardenne, Lorraine, Alsace
Neighbours: Franche-Comté, Namur, Lorraine, Burgundy, Île-de-France, Luxembourg, Picardy, Hainaut
Subregions: Ardennes, Aube, Marne, Haute-Marne
Suggested citation: Michal Páleník: EU regions - Champagne-Ardenne – FRF2, IZ Bratislava, retrieved from: https://www.iz.sk/​en/projects/eu-regions/FRF2
---
https://www.iz.sk/en/projects/eu-regions/FRF2