Picardy – FRE2
EU regions: France > Hauts-de-France > Picardy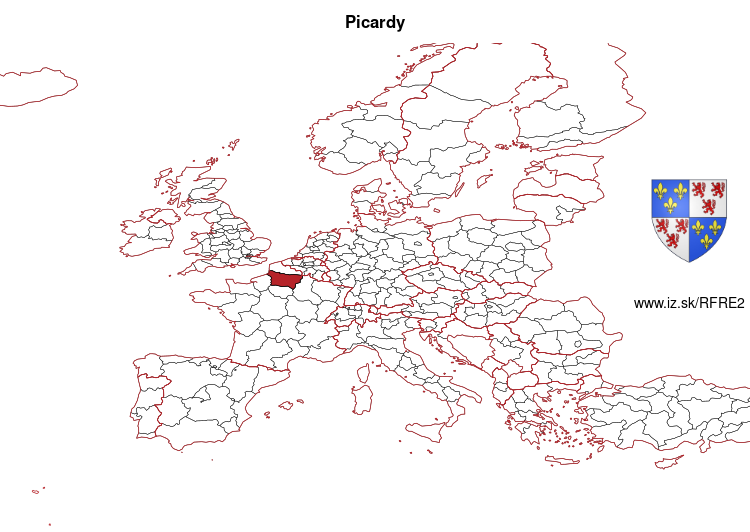 More on wikipedia wikidata Q13950 on OpenStreetMap Picardy slovensky: FRE2
Subregions: Aisne, Oise, Somme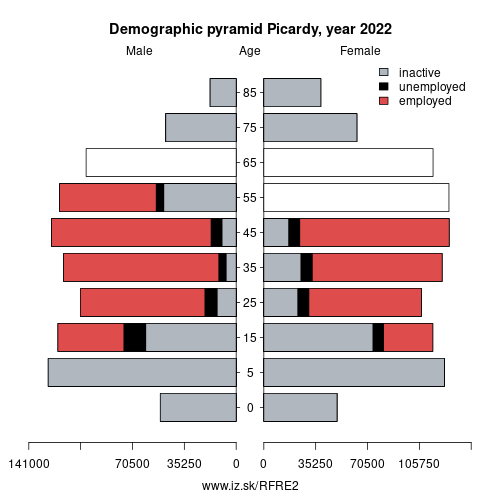 Unemployment
Demographics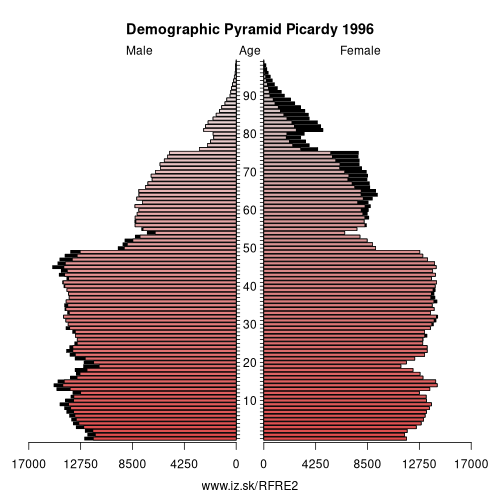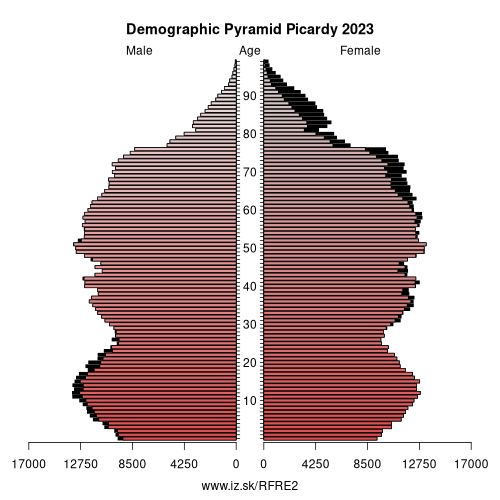 Employment by sectors, Picardy
| NACE r2 | | % | NACE r2 | | % |
| --- | --- | --- | --- | --- | --- |
| A | 21.8 | 3 % | B-E | 112.5 | 15 % |
| F | 48.6 | 6 % | G-I | 193.8 | 25 % |
| J | 10.1 | 1 % | K | 16.8 | 2 % |
| L | 7.2 | 1 % | M_N | 60.1 | 8 % |
| NRP | 9.9 | 1 % | O-Q | 240.6 | 31 % |
| R-U | 43.4 | 6 % | TOTAL | 764.7 | 100 % |
Data for the period year 2022. Source of the data is Eurostat, table [lfst_r_lfe2en2].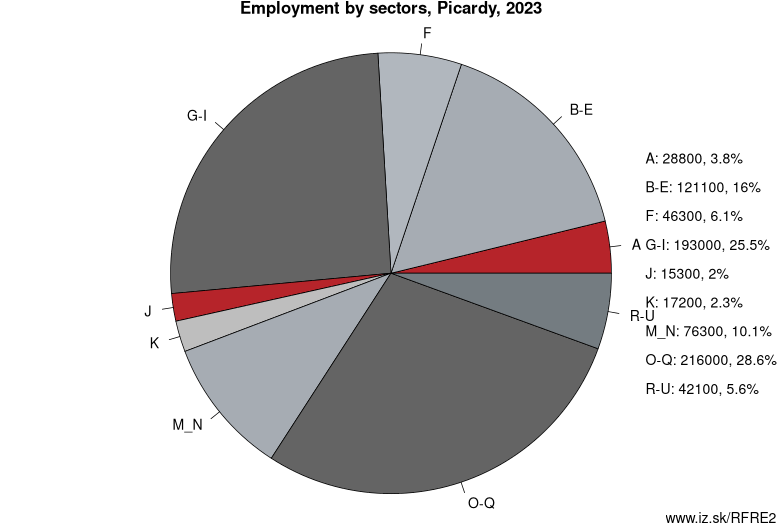 From Wikipedia: Picardy (; Picard and French: Picardie, French pronunciation: ​[pikaʁdi], Picard: [pika(ː)rdi]) is a historical territory and a former administrative region of France. Since 1 January 2016, it has been part of the new region of Hauts-de-France. It is located in the northern part of France.
History
The historical province of Picardy stretched from north of Noyon to Calais via the whole of the Somme department and the north of the Aisne department. The province of Artois (Arras area) separated Picardy from French Flanders.
Middle Ages
From the 5th century, the area formed part of the Frankish Empire and, in the feudal period, it encompassed the six countships of Boulogne, Montreuil, Ponthieu, Amiénois, Vermandois and Laonnois. In accordance with the provisions of the 843 Treaty of Verdun, the region became part of West Francia, the later Kingdom of France.
The name "Picardy" derives from the Old French pic, meaning "pike", the characteristic weapon used by people from this region in ancient times. The term "Picardy" was first used in the early 13th century, during which time the name applied to all lands where the Picard language was spoken including territories from Paris to the Netherlands. In the Latin Quarter of Paris, people identified a "Picard Nation" (Nation Picarde) of students at Sorbonne University, most of whom actually came from Flanders.
Other: Hauts-de-France, Picardy, Nord-Pas-de-Calais
Neighbours: Champagne-Ardenne, Upper Normandy, Île-de-France, Hainaut, Nord-Pas-de-Calais
Subregions: Aisne, Oise, Somme
Suggested citation: Michal Páleník: EU regions - Picardy – FRE2, IZ Bratislava, retrieved from: https://www.iz.sk/​en/projects/eu-regions/FRE2
---
https://www.iz.sk/en/projects/eu-regions/FRE2