Friesland – NL12
EU regions: Netherlands > Northern Netherlands > Friesland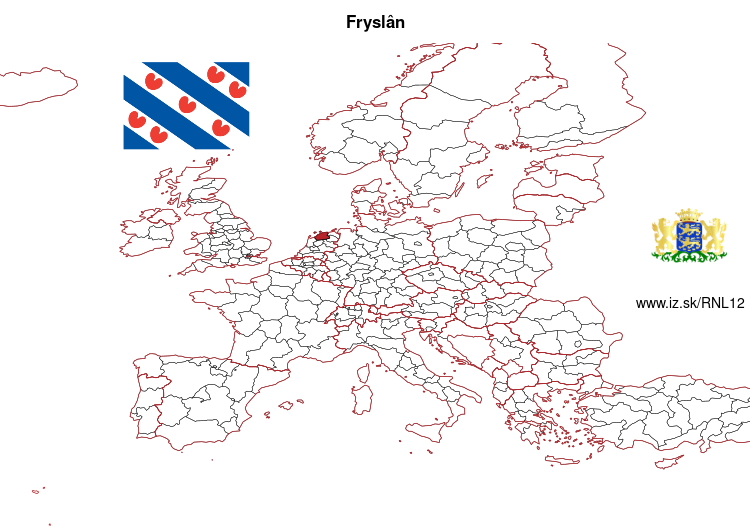 More on wikipedia wikidata Q770 on OpenStreetMap Friesland slovensky: NL12
Subregions: Noord-Friesland, Zuidwest-Friesland, Zuidoost-Friesland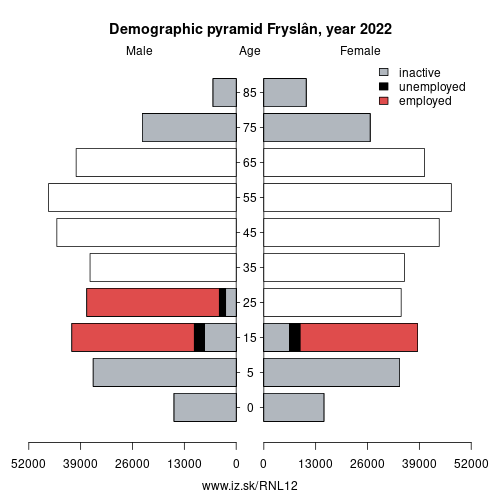 Unemployment
Demographics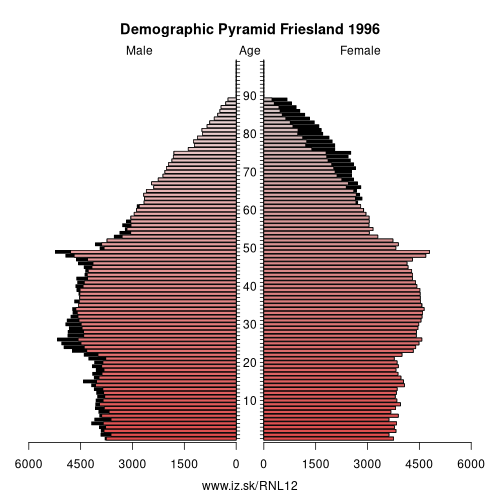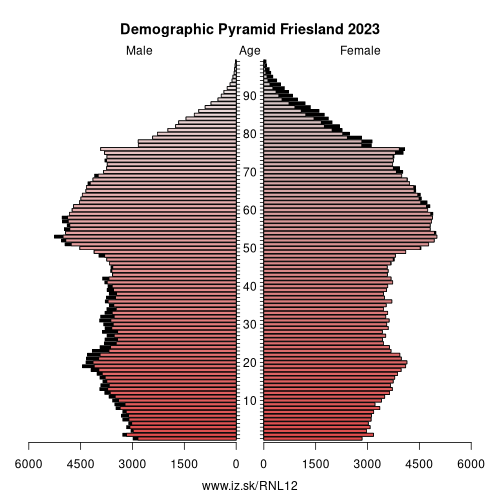 Employment by sectors, Friesland
| NACE r2 | | % | NACE r2 | | % |
| --- | --- | --- | --- | --- | --- |
| A | 9.8 | 3 % | B-E | 41.6 | 12 % |
| F | 16.6 | 5 % | G-I | 90.2 | 26 % |
| J | 7 | 2 % | K | 7.7 | 2 % |
| L | 2.4 | 1 % | M_N | 36.8 | 11 % |
| NRP | 7.1 | 2 % | O-Q | 111 | 32 % |
| R-U | 13.2 | 4 % | TOTAL | 343.5 | 100 % |
Data for the period year 2022. Source of the data is Eurostat, table [lfst_r_lfe2en2].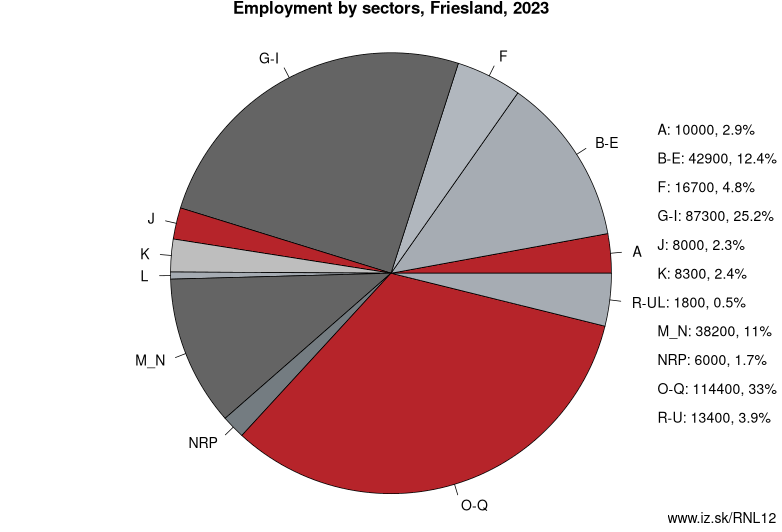 From Wikipedia: Friesland ( FREEZ-lənd, also US: -⁠land, Dutch: [ˈfrislɑnt] (listen); official West Frisian: Fryslân [ˈfrislɔːn] (listen)), historically known as Frisia, is a province of the Netherlands located in the northern part of the country. It is situated west of Groningen, northwest of Drenthe and Overijssel, north of Flevoland, northeast of North Holland, and south of the Wadden Sea. In 2019, the province had a population of 647,672 and a total area of 5,749 km2 (2,220 sq mi).
The capital and seat of the provincial government is the city of Leeuwarden (West Frisian: Ljouwert), a city with 92,146 inhabitants. Since 2017, Arno Brok is the King's Commissioner in the province. A coalition of the Labour Party, the Christian Democratic Appeal, and the Frisian National Party forms the executive branch. The province is divided into 18 municipalities. The area of the province was once part of the ancient, larger region of Frisia. The official languages of Friesland are West Frisian and Dutch.
Toponymy
In 1996 the States of Friesland resolved that the official name of the province should follow the West Frisian spelling rather than the Dutch spelling, resulting in "Friesland" being replaced by "Fryslân".
Other: Northern Netherlands, Friesland, Drenthe, Groningen
Neighbours: Flevoland, Drenthe, North Holland, Overijssel, Groningen
Subregions: Noord-Friesland, Zuidwest-Friesland, Zuidoost-Friesland
Suggested citation: Michal Páleník: EU regions - Friesland – NL12, IZ Bratislava, retrieved from: https://www.iz.sk/​en/projects/eu-regions/NL12
---
https://www.iz.sk/en/projects/eu-regions/NL12