Drenthe – NL13
EU regions: Netherlands > Northern Netherlands > Drenthe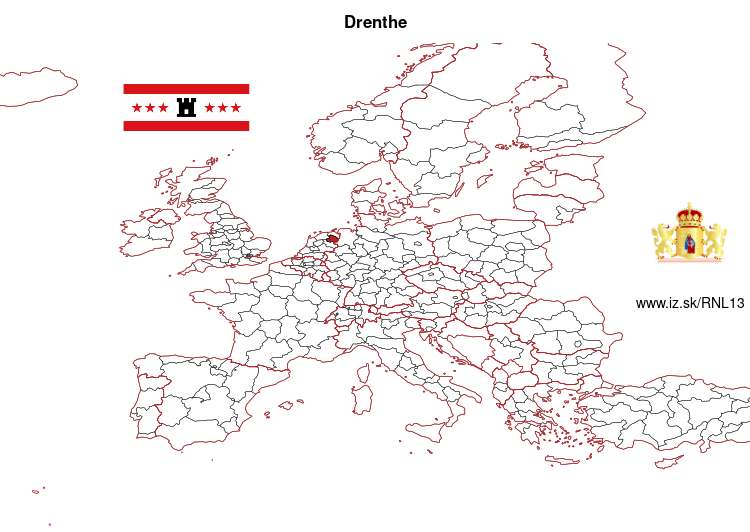 More on wikipedia wikidata Q772 on OpenStreetMap Drenthe slovensky: NL13
Subregions: Noord-Drenthe, Zuidoost-Drenthe, Zuidwest-Drenthe
Unemployment
Demographics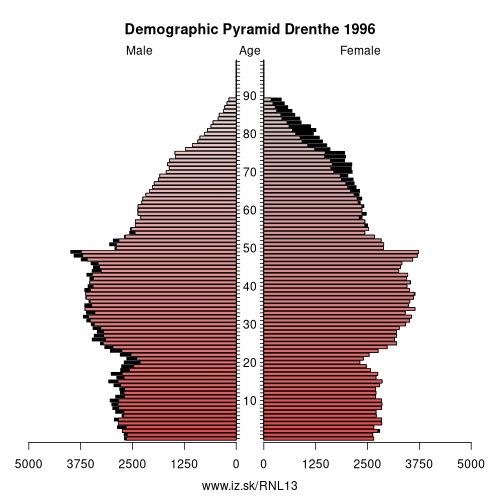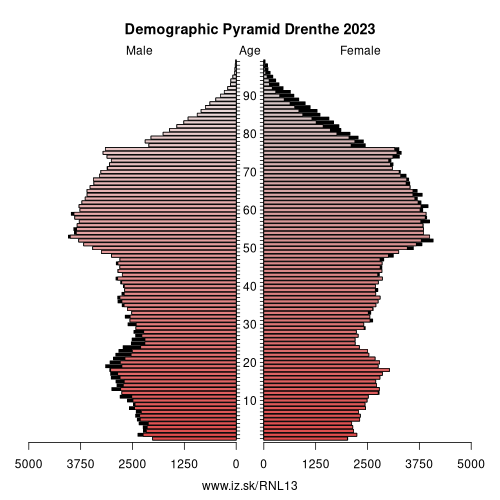 Employment by sectors, Drenthe
| NACE r2 | | % | NACE r2 | | % |
| --- | --- | --- | --- | --- | --- |
| A | 8.6 | 3 % | B-E | 27.4 | 11 % |
| F | 13.6 | 5 % | G-I | 59.1 | 23 % |
| J | 6.9 | 3 % | K | 4 | 2 % |
| L | 2.3 | 1 % | M_N | 28.5 | 11 % |
| NRP | 4.6 | 2 % | O-Q | 94.9 | 37 % |
| R-U | 8 | 3 % | TOTAL | 257.9 | 100 % |
Data for the period year 2022. Source of the data is Eurostat, table [lfst_r_lfe2en2].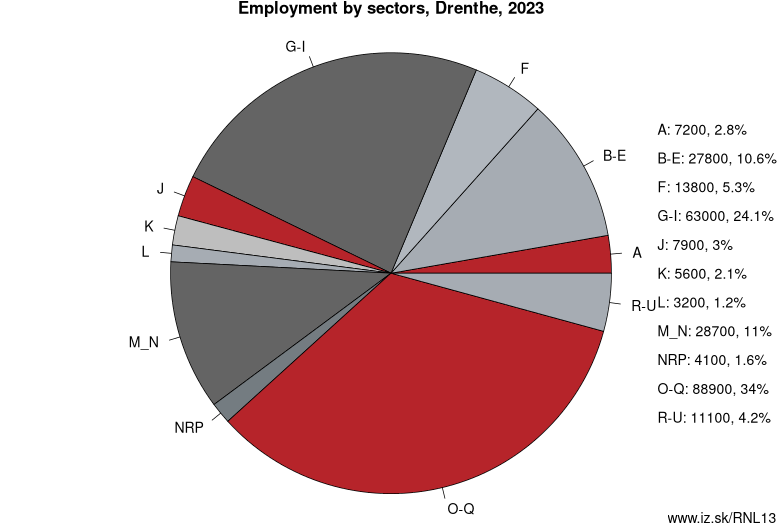 From Wikipedia: Drenthe ( DREN-tə, Dutch: [ˈdrɛntə] (listen); German: Drente) is a province of the Netherlands located in the northeastern part of the country. It is bordered by Overijssel to the south, Friesland to the west, Groningen to the north, and Germany (districts of Emsland and Bentheim, Lower Saxony) to the east. In January 2017, it had a population of 491,867 and a total area of 2,683 km2 (1,036 sq mi).
Drenthe has been populated for 150,000 years. The region has subsequently been part of the Episcopal principality of Utrecht, Habsburg Netherlands, Dutch Republic, Batavian Republic, Kingdom of Holland and Kingdom of the Netherlands. Drenthe has been an official province since 1796. The capital and seat of the provincial government is Assen. The King's Commissioner of Drenthe is Jetta Klijnsma. The Labour Party (PvdA) is the largest party in the States-Provincial, followed by the People's Party for Freedom and Democracy (VVD) and the Christian Democratic Appeal (CDA).
Drenthe is a sparsely populated rural area, unlike many other parts of the Netherlands.
Other: Northern Netherlands, Friesland, Drenthe, Groningen
Neighbours: Overijssel, Groningen, Friesland, Weser-Ems Government Region
Subregions: Noord-Drenthe, Zuidoost-Drenthe, Zuidwest-Drenthe
Suggested citation: Michal Páleník: EU regions - Drenthe – NL13, IZ Bratislava, retrieved from: https://www.iz.sk/​en/projects/eu-regions/NL13
---
https://www.iz.sk/en/projects/eu-regions/NL13