Asturias – ES12
EU regions: Spain > Noroeste > Asturias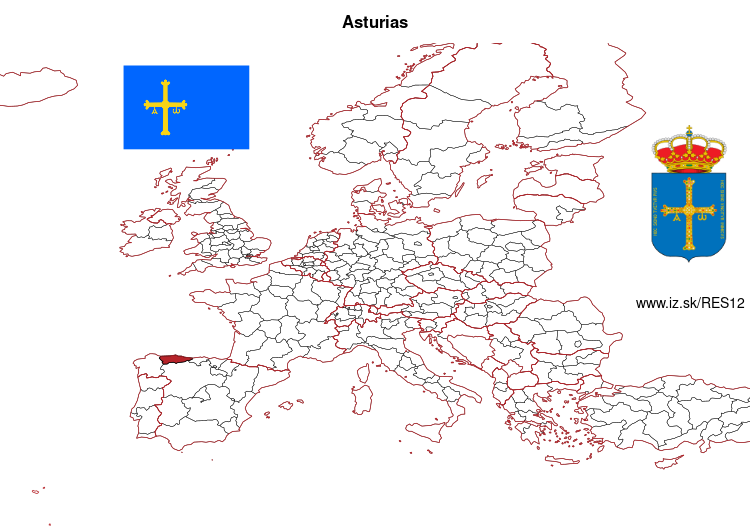 More on wikipedia wikidata Q3934 on OpenStreetMap Asturias slovensky: ES12
Subregions: Province of Asturias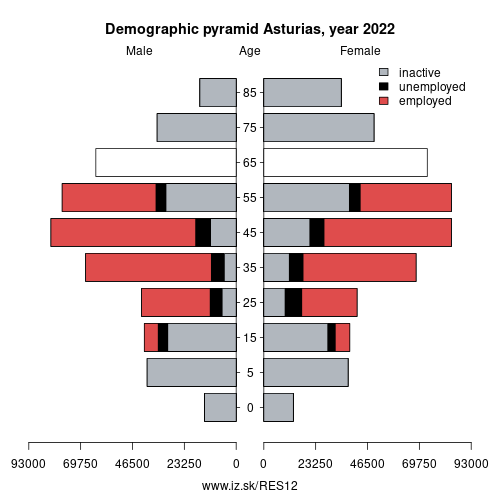 Unemployment
Demographics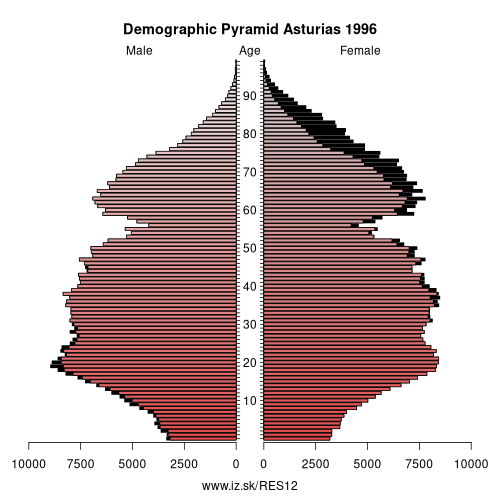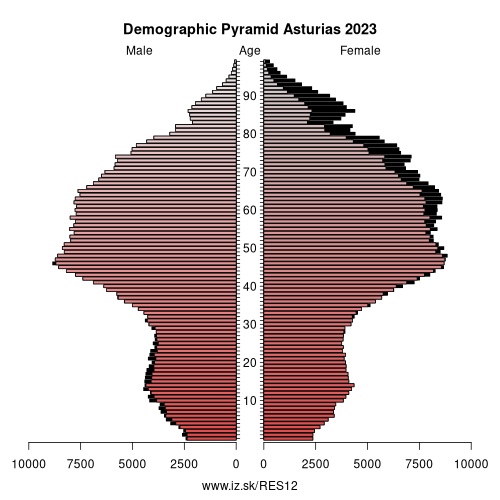 Employment by sectors, Asturias
NACE r2
%
NACE r2
%
A
13.3
3 %
B-E
55.6
14 %
F
23.9
6 %
G-I
103.7
27 %
J
12.1
3 %
K
7
2 %
L
1.4
0 %
M_N
37.2
10 %
O-Q
100.7
26 %
R-U
28.8
8 %
TOTAL
383.8
100 %
Data for the period year 2022. Source of the data is Eurostat, table [lfst_r_lfe2en2].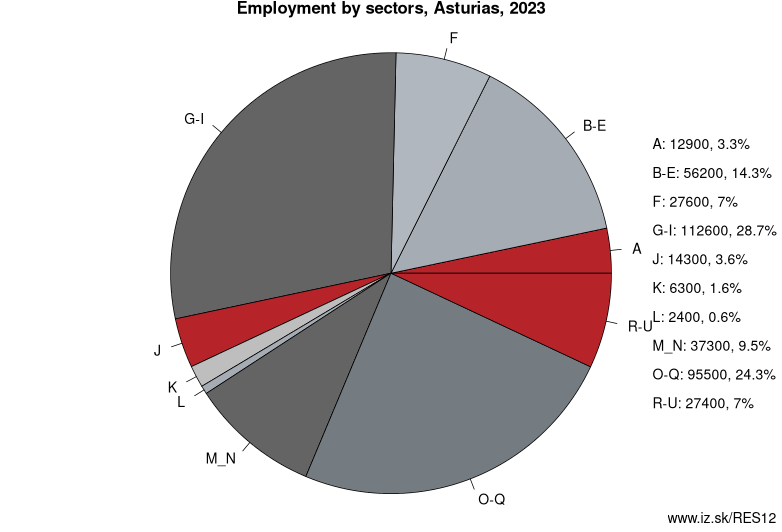 Asturias
(, Spanish: 
[asˈtuɾjas]
; Asturian:
Asturies
[asˈtuɾjes; -ɾjɪs]
; Eonaviego: Asturias), officially the
Principality of Asturias
(Spanish:
Principado de Asturias
; Asturian:
Principáu d'Asturies
), is an autonomous community in north-west Spain. It is coextensive with the province of Asturias, and contains some of the territory that was part of the larger Kingdom of Asturias in the Middle Ages. Divided into eight
comarcas
(counties), the autonomous community of Asturias is bordered by Cantabria to the east, by León (Castile and León) to the south, by Lugo (Galicia) to the west, and by the Bay of Biscay (Cantanbric sea) to the north.
The most important cities are the communal capital, Oviedo (Uviéu), the seaport and largest city Gijón (Xixón), and the industrial town of Avilés. Other municipalities in Asturias include Cangas de Onís (Cangues d'Onís), Cangas del Narcea, Gozón, Grado (Grau or Grao), Langreo (Llangréu), Llanera, Laviana (Llaviana), Lena (Ḷḷena), Llanes, Mieres, Siero, Valdés, Vegadeo (A Veiga) and Villaviciosa (see also List of municipalities and comarcas in Asturias).
Asturias is also home of the Princess of Asturias Awards.
History
Asturias was inhabited, first by Homo erectus, then by Neanderthals. Since the Lower Paleolithic era, and during the Upper Paleolithic, Asturias was characterized by cave paintings in the eastern part of the area. In the Mesolithic period, a native culture developed, that of the Asturiense, and later, with the introduction of the Bronze Age, megaliths and tumuli were constructed. In the Iron Age, the territory came under the cultural influence of the Celts; the local Celtic peoples, known as the Astures, were composed of tribes such as the Luggones, the Pesicos, and others, who populated the entire area with castros (fortified hill-towns).
Other: Noroeste, Asturias, Galicia, Cantabria
Neighbours: Galicia, Castile and León, Cantabria
Subregions: Province of Asturias
Suggested citation: Michal Páleník: EU regions - Asturias – ES12, IZ Bratislava, retrieved from: https://www.iz.sk/​en/projects/eu-regions/ES12
---
https://www.iz.sk/en/projects/eu-regions/ES12