Apulia – ITF4
EU regions: Italy > South Italy > Apulia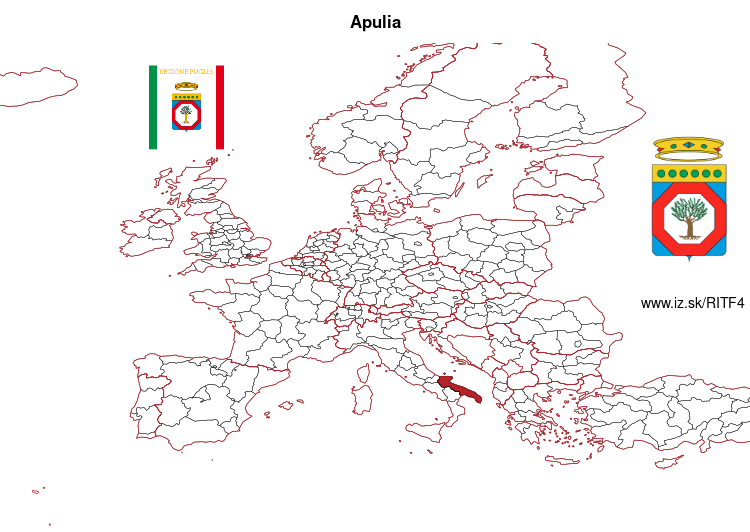 More on wikipedia wikidata Q1447 on OpenStreetMap Apulia slovensky: ITF4
Subregions: Province of Taranto, Province of Brindisi, Province of Lecce, Province of Foggia, Province of Bari, Province of Barletta-Andria-Trani
Unemployment
Demographics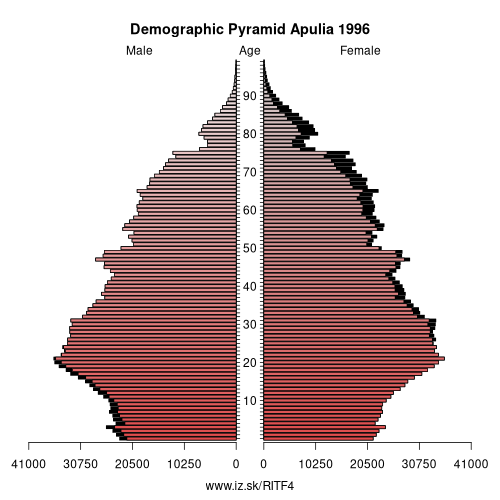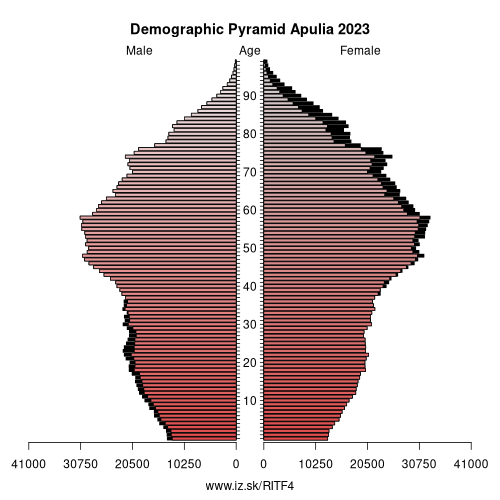 Employment by sectors, Apulia
NACE r2
%
NACE r2
%
A
108.1
9 %
B-E
182.2
14 %
F
104.2
8 %
G-I
328.4
26 %
J
20.4
2 %
K
22
2 %
L
5.8
0 %
M_N
130.3
10 %
O-Q
287.6
23 %
R-U
77.7
6 %
TOTAL
1266.6
100 %
Data for the period year 2022. Source of the data is Eurostat, table [lfst_r_lfe2en2].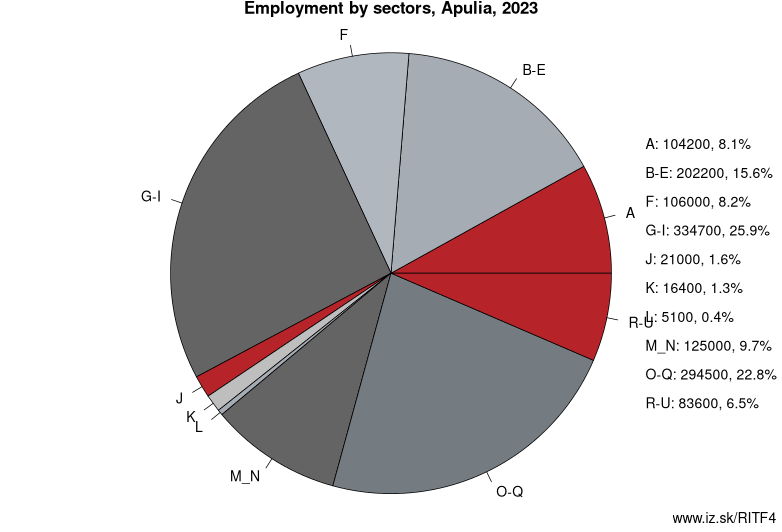 From Wikipedia: Apulia ( ə-POO-lee-ə; Italian: Puglia [ˈpuʎːa]; Neapolitan: Pùglia [ˈpuʝːə]; Albanian: Pulia; Ancient Greek: Ἀπουλία, romanized: Apoulía) is a region in Southern Italy bordering the Adriatic Sea to the east, the Ionian Sea to the southeast, and the Strait of Otranto and Gulf of Taranto to the south. The region comprises 19,345 square kilometers (7,469 sq mi), and its population is about four million.
It is bordered by the other Italian regions of Molise to the north, Campania to the west, and Basilicata to the southwest. Across the Adriatic and Ionian Seas, it faces Albania, Bosnia-Herzegovina, Croatia, Greece, and Montenegro. Its capital city is Bari.
Geography
Apulia's coastline is longer than that of any other mainland Italian region. In the north, the Gargano promontory extends out into the Adriatic like a 'sperone' ("spur"), while in the south, the Salento peninsula forms the 'tacco' ("heel") of Italy's boot. The highest peak in the region is Mount Cornacchia (1,152 meters above sea level) within the Daunian Mountains, in the north along the Apennines.
It is home to two national parks, the Alta Murgia National Park and Gargano National Park.
Outside of national parks in the North and West, most of Apulia and particularly Salento is geographically flat with only moderate hills.
The climate is typically mediterranean with hot, dry and sunny summers and mild, rainy winters.
Other: South Italy, Abruzzo, Apulia, Calabria, Basilicata, Campania, Molise
Neighbours: Basilicata, Campania, Molise
Subregions: Province of Taranto, Province of Brindisi, Province of Lecce, Province of Foggia, Province of Bari, Province of Barletta-Andria-Trani
Suggested citation: Michal Páleník: EU regions - Apulia – ITF4, IZ Bratislava, retrieved from: https://www.iz.sk/​en/projects/eu-regions/ITF4
---
https://www.iz.sk/en/projects/eu-regions/ITF4