Calabria – ITF6
EU regions: Italy > South Italy > Calabria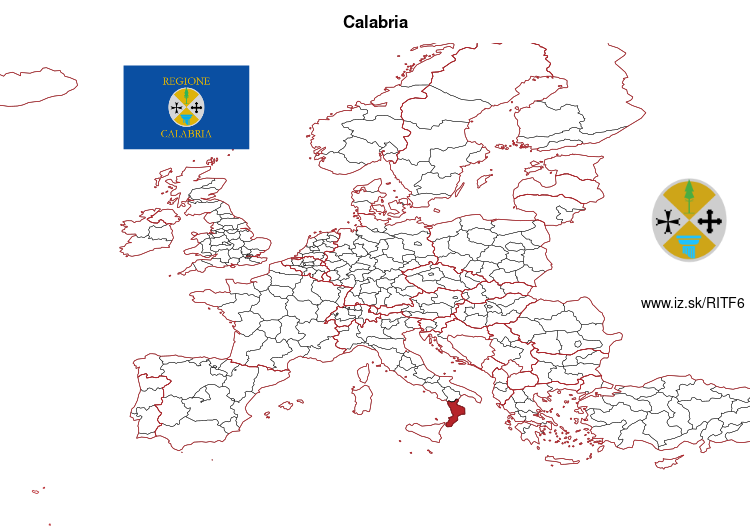 More on wikipedia wikidata Q1458 on OpenStreetMap Calabria slovensky: ITF6
Subregions: Province of Cosenza, Province of Crotone, Province of Catanzaro, Province of Vibo Valentia, Province of Reggio Calabria
Unemployment
Demographics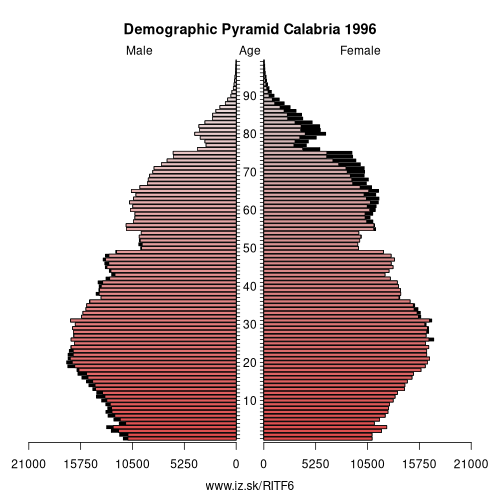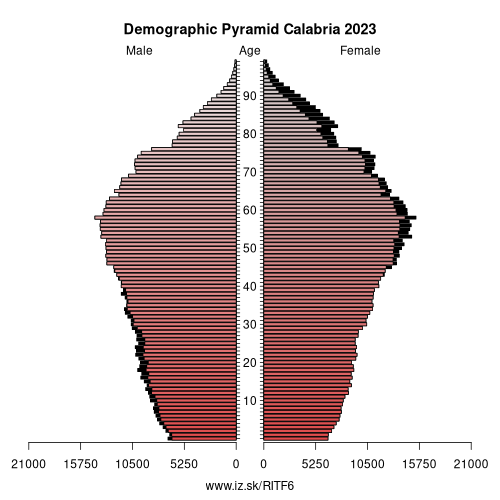 Employment by sectors, Calabria
| NACE r2 | | % | NACE r2 | | % |
| --- | --- | --- | --- | --- | --- |
| A | 64.6 | 12 % | B-E | 43.4 | 8 % |
| F | 45.1 | 9 % | G-I | 141.7 | 27 % |
| J | 9.5 | 2 % | K | 10.4 | 2 % |
| M_N | 53 | 10 % | O-Q | 129.5 | 24 % |
| R-U | 31.1 | 6 % | TOTAL | 529 | 100 % |
Data for the period year 2022. Source of the data is Eurostat, table [lfst_r_lfe2en2].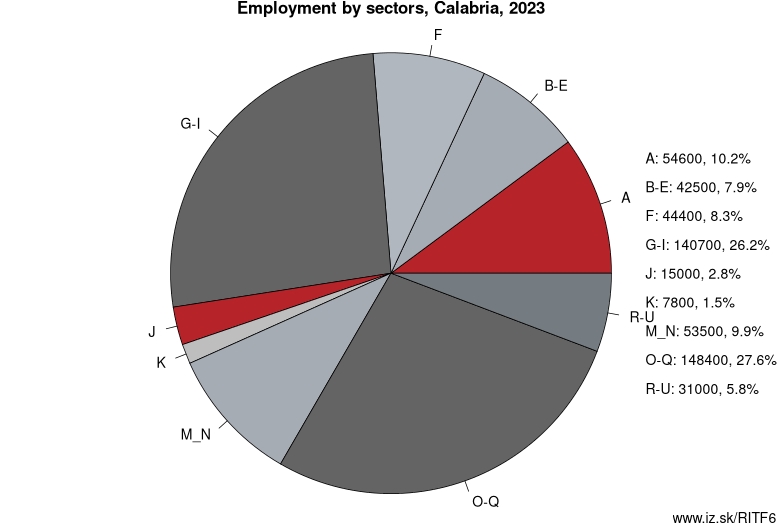 Calabria
(
UK:
,
US:
, Italian: 
[kaˈlaːbrja]
; Calabrian:
Calàbbria
; Calabrian Greek:
Calavría
; Greek:
Καλαβρία
; Arbëreshë Albanian:
Kalavrì
), known in antiquity as
Bruttium
(
US:
), is a region in Southern Italy.
The capital city of Calabria is Catanzaro. The Regional Council of Calabria is based at the Palazzo Campanella in the city of Reggio Calabria. The region is bordered to the north by the Basilicata Region, to the west by the Tyrrhenian Sea, and to the east by the Ionian Sea. The region covers 15,080 km2 (5,822 sq mi) and has a population of just under 2 million. The demonym of Calabria is calabrese in Italian and Calabrian in English.
In ancient times the name Calabria referred, not as in modern times to the toe, but to the heel tip of Italy, from Tarentum southwards, a region nowadays known as Salento.
Etymology
Starting in the third century BC, the name Calabria was originally given to the Adriatic coast of the Salento peninsula in modern Apulia. In the late first century BC this name came to extend to the entirety of the Salento, when the Roman emperor Augustus divided Italy into regions. The whole region of Apulia received the name Regio II Apulia et Calabria.
Other: South Italy, Molise, Basilicata, Apulia, Calabria, Campania, Abruzzo
Neighbours: Basilicata
Subregions: Province of Cosenza, Province of Crotone, Province of Catanzaro, Province of Vibo Valentia, Province of Reggio Calabria
Suggested citation: Michal Páleník: EU regions - Calabria – ITF6, IZ Bratislava, retrieved from: https://www.iz.sk/​en/projects/eu-regions/ITF6
---
https://www.iz.sk/en/projects/eu-regions/ITF6