Andalusia – ES61
EU regions: Spain > Sur > Andalusia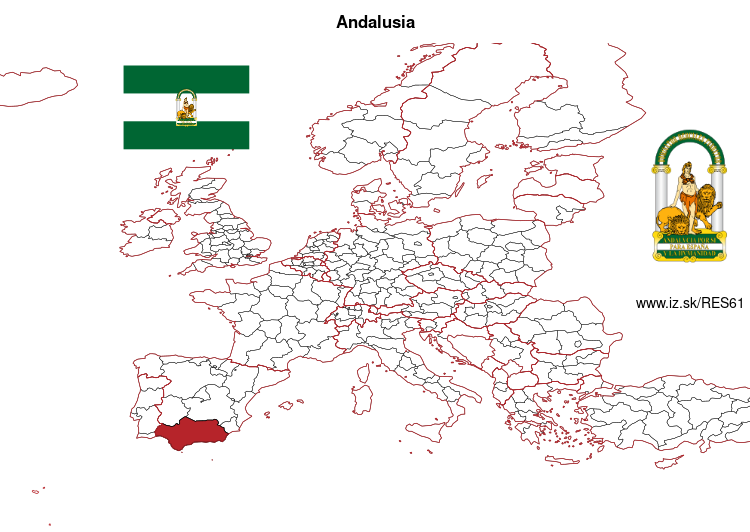 More on wikipedia wikidata Q5783 on OpenStreetMap Andalusia slovensky: ES61
Subregions: Almería Province, Cádiz Province, Córdoba Province, Province of Granada, Province of Huelva, Jaén Province, Málaga Province, Seville Province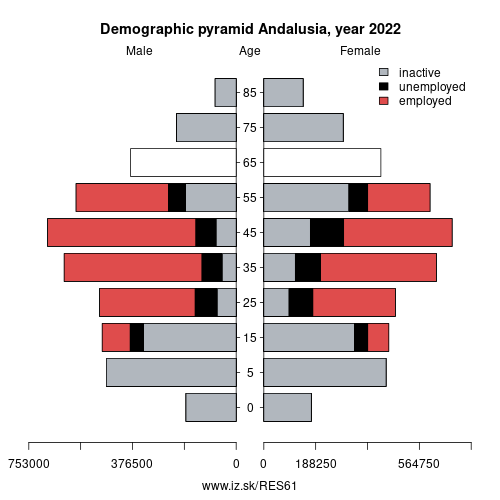 Unemployment
Demographics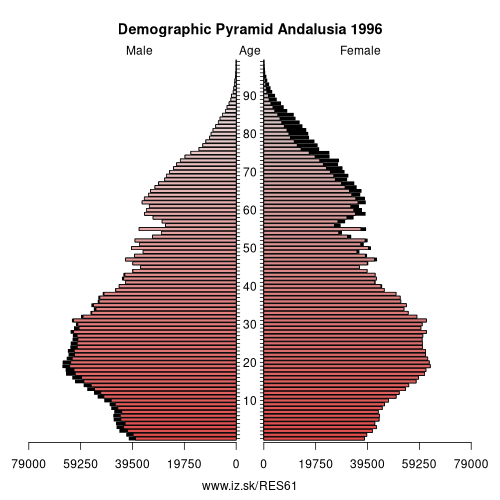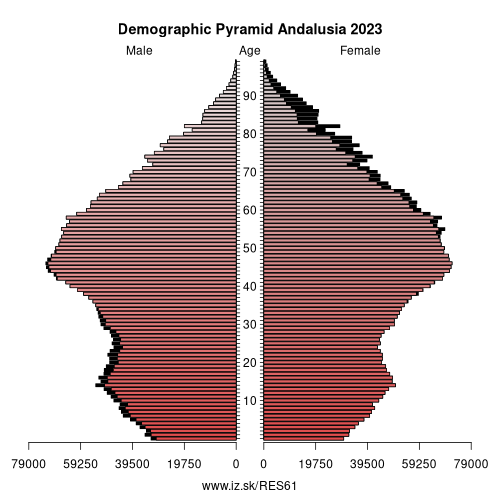 Employment by sectors, Andalusia
NACE r2
%
NACE r2
%
A
241.7
7 %
B-E
297.9
9 %
F
219.2
7 %
G-I
994.9
31 %
J
89.1
3 %
K
54.8
2 %
L
31.7
1 %
M_N
294.6
9 %
O-Q
806.8
25 %
R-U
228.8
7 %
TOTAL
3259.5
100 %
Data for the period year 2022. Source of the data is Eurostat, table [lfst_r_lfe2en2].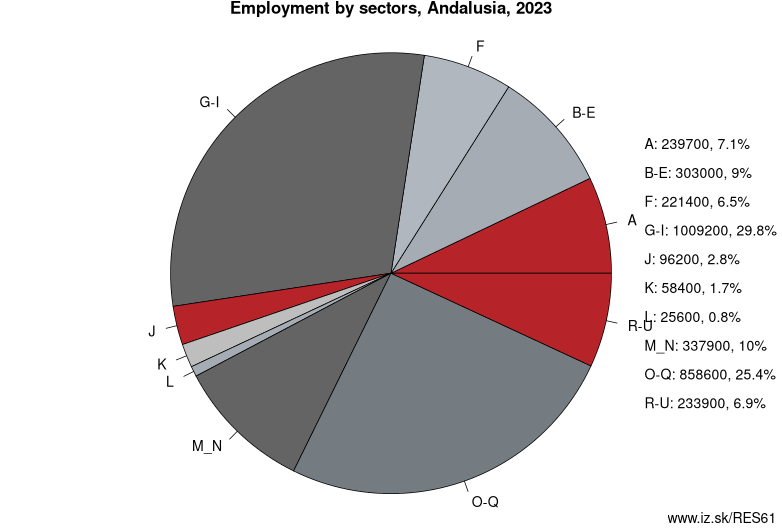 Andalusia
(
UK:
,
US:
; Spanish:
Andalucía
[andaluˈθi.a]
) is an autonomous community in southern Spain. It is the most populous, and the second largest autonomous community in the country. The Andalusian autonomous community is officially recognised as a "historical nationality". The territory is divided into eight provinces: Almería, Cádiz, Córdoba, Granada, Huelva, Jaén, Málaga and Seville. Its capital is the city of Seville.
Andalusia is located in the south of the Iberian peninsula, in southwestern Europe, immediately south of the autonomous communities of Extremadura and Castilla-La Mancha; west of the autonomous community of Murcia and the Mediterranean Sea; east of Portugal and the Atlantic Ocean; and north of the Mediterranean Sea and the Strait of Gibraltar. Andalusia is the only European region with both Mediterranean and Atlantic coastlines. The small British overseas territory of Gibraltar shares a three-quarter-mile land border with the Andalusian province of Cádiz at the eastern end of the Strait of Gibraltar.
The main mountain ranges of Andalusia are the Sierra Morena and the Baetic System, consisting of the Subbaetic and Penibaetic Mountains, separated by the Intrabaetic Basin. In the north, the Sierra Morena separates Andalusia from the plains of Extremadura and Castile–La Mancha on Spain's Meseta Central.
Other: Sur, Region of Murcia, Andalusia, Ceuta, Melilla
Neighbours: Castile-La Mancha, Algarve (NUTS 2), Extremadura, Alentejo region, Region of Murcia
Subregions: Almería Province, Cádiz Province, Córdoba Province, Province of Granada, Province of Huelva, Jaén Province, Málaga Province, Seville Province
Suggested citation: Michal Páleník: EU regions - Andalusia – ES61, IZ Bratislava, retrieved from: https://www.iz.sk/​en/projects/eu-regions/ES61
---
https://www.iz.sk/en/projects/eu-regions/ES61